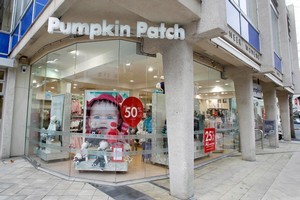 Pumpkin Patch's chief executive Maurice Prendergast has announced he has resigned and will leave the company at the end of the year.
He will be succeeded by the company's chief operating officer Neil Cowie.
The announcement came as the company announced today its annual net profit had plunged by 50 per cent to $12.6 million.
Prendergast said the results were disappointing, but reflected a challenging retail environment, amid escalating cotton prices.
"Events such as the Christchurch earthquakes, the Queensland floods, and political unrest in the MIddle East added to these challenges," he said.
Prendergast highlighted the company's online business, with sales up significantly on last year, as one of the successes of the year.
Pumpkin Patch chairperson Jane Freeman said Prendergast had been a driving force behind the transformation of Pumpkin Patch from a small New Zealand mail order business to an international childrenswear business.
"What he has done over the last 18 years is remarkable.
"Fortunately with him staying on as a director we have not lost his vast experience and knowledge of the business."
- NZ HERALD ONLINE