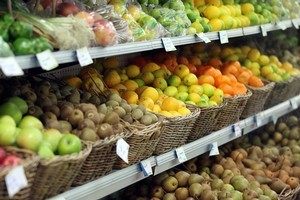 The Queensland floods are being blamed for a massive increase in the cost of tomatoes, capsicums and cucumber during June.
The latest Statistics New Zealand Food Price Index shows food prices were up 1.4 per cent, led by a 12.2 per cent increase in the fruit and vegetables subgroup.
In contrast meat, poultry, and fish prices fell 3.2 per cent from their peak in May - the exception being lamb, which rose 1.2 per cent and is now at its highest-recorded level.
Statistics New Zealand said the sharp rise in the cost of fruit and vegetables was led by a 56.9 per cent rise in the cost of tomatoes, capsicums (up 43.7 per cent), and cucumber (up 35.6 per cent).
Lettuce also experienced a seasonal increase, rising 42.7 per cent following a 45.6 percent increase in May.
"Tomato and capsicum prices rose more than they usually do in June, reflecting a supply shortage caused by the January floods in Queensland," Statistics NZ prices manager Chris Pike said.
ASB economist Christina Leung said the June prices rises were "broadly in line with our expectations" and that further lifts in such "soft commodity" prices were expected throughout this year.
She said the index tended to be very volatile from month to month given the influence of weather conditions on supply
Over the past year, higher international prices for beef and lamb had flowed through to the retail level, with the meat, poultry and fish category increasing 3.5 per cent in the year to June.
Leung said she expected the release of the second quarter Consumer Price Index next Monday would show a 0.8 per cent increase.
"Leaving aside the GST increase, higher global soft commodity prices has largely underpinned the increase in food prices over the past year. While there has been some easing in soft commodity prices recently, prices elevated given strong global demand," said Leung.
"We expect strong global soft commodity prices will continue to flow through to prices at the retail level in NZ over the remainder of 2011."
Four of the five most significant price falls in the June food price index were from the meat, poultry, and fish subgroup, Statistics New Zealand said.
Poultry prices fell (down 8 per cent), with fresh chicken prices down 10.4 per cent. Beef prices also fell 3 per cent, influenced by an increase in the level of discounting on porterhouse/sirloin beef steak (down 7.1 per cent).
In the year to June 2011, food prices rose 7.5 per cent.
This included a 2.2 per cent rise in October 2010, when goods and services tax rose.
In the year to June fruit and vegetables were up 15.7 per cent, restaurant meals and ready-to-eat food up 4.5 per cent, non-alcoholic beverages up 8.1 per cent and meat, poultry, and fish up 3.5 per cent.
Vegetable prices rose 23.5 per cent and fresh milk prices rose 9.4 per cent in the year to June 2011.
-NZ HERALD STAFF