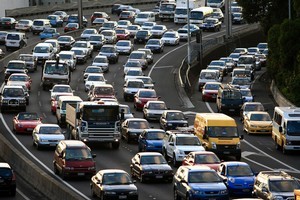 Ratepayers and road users will have to help fund future infrastructure projects like a second Auckland harbour crossing but any decisions are a long way off, Transport Minister Steven Joyce says.
The Government's second national infrastructure plan was rolled out yesterday, a $17 billion four-year programme with rebuilding Christchurch and fixing Auckland's transport systems top priorities.
It also identified challenges that were coming up, including weak regulations, poor co-ordination between sectors and a lack of clarity about who was accountable for decisions.
Most of the funding in the plan has been previously announced - $7.6b on social assets like schools, hospitals, state houses and prisons, $6.5b on roads and about $1.5b each on broadband and rail.
In addition, $5.5b has been set aside to rebuild Christchurch.
Mr Joyce, who is also associate Infrastructure Minister, today said the Western ring route and the Waterview motorway project in Auckland were massive projects that would create "a step change of transport in Auckland going out five years".
Beyond that would be a second Auckland harbour crossing, a CBD rail tunnel and potentially other infrastructure projects.
Funding those future projects would involve everyone shouldering the burden, Mr Joyce said.
"At the end of the day, when it comes to those sorts of projects, it will take a contribution from everybody," he told Radio New Zealand.
Mr Joyce said reports today of possible $6 tolls for a second Auckland harbour crossing were "alarmist".
"Nobody has a plan yet to pay for the harbour crossing ... that's due to be built over the next 15 to 20 years, so before everybody sort of chokes on their cornflakes we've got a way to go yet," he said.
"It will be very expensive, but ultimately it will be contributed to by road users through their taxes, by ratepayers and also by possibly a toll, but we're years away from deciding those."
The proposal for $6 tolls was based on most of the project being funded by tolls, Mr Joyce said.
"I don't think in anybody's wildest dreams that that would actually occur," he said.
The Green Party said the Government's infrastructure programme was full of contradictions.
"It plans to spend billions on new state highways, even though it states that we need to find more cost effective ways of using the infrastructure that we have, particularly in urban areas," said party co-leader Russel Norman.
He said there were some smart principles in the infrastructure plan, but that they did not flow through to the actual projects the Government was prioritising.
Mr Joyce disagreed with Dr Norman's criticisms, saying public transport was part of the solution.
"I am very strongly of the view that in Auckland particularly, but also in Wellington, that you're going to need all your transport corridors to work effectively. But that means not showing a particular favouritism for a particular mode," he said.
"Unfortunately the Greens have a favouritism for rail over everything else, and they somehow accuse me of a bias."
Mr Joyce said there would be an announcement on Wellington rail today.
- NZPA