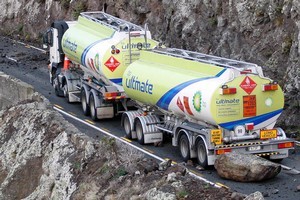 Anxious Christchurch residents are boosting sales of cigarettes and coffee in the city's BP shops in an otherwise flat market for retail sales and declining petrol sales.
BP NZ's after tax profit jumped 41.5 per cent last year according to Companies Office filings but the company says this year has been tougher.
Profits had risen from $79.5 million in 2009 to $112.5 million in the 12 months to December 31 due to greater returns from its stake in NZ Refining, trimming costs and improving profitability across the business. It says margins remain tight on fuel.
Aside from a spike in some lines in earthquake-hit Christchurch, petrol sales throughout the country were down between 2 per cent and 4 per cent and shop sales were generally down, due largely to high petrol prices, said BP NZ's managing director Mike McGuinness.
BP shops, where margins are high compared to the lean profits on fuel, were facing increased competition from what was seen as a surprising fight back by dairies and cut-price convenience and snack food from supermarkets.
McGuinness said BP believes the number of dairies had increased by about 200.
The dairy business has been hit over the past decade by growing numbers of petrol stations offering a bigger range of convenience and food around the clock. McGuinness said diesel sales were up this year by about 5 per cent, which was a sign of an improving farming and productive economy.
He said last week's 6.3 magnitude aftershock in Christchurch had set back repairs to BP assets.
The company, which has 14 fuel sites in the city and terminal facilities at Lyttelton, had suffered damage worth about $2.5 million in the February 22 earthquake.
Last Monday's aftershock caused a further $1 million in damage.
This was covered by insurance.
McGuinness said the quakes meant fuel tankers could no longer use the road over the Port Hills but had been granted dispensation to drive through the Lyttelton tunnel.