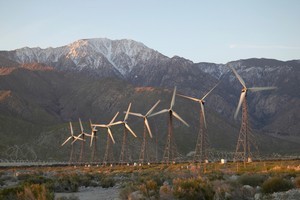 Backers of wind energy say costs are falling compared with competing technologies such as geothermal generation because of decreasing equipment costs.
Wind farm viability has been hit by high capital costs because of a shortage of turbines and gearboxes, which have been made mainly in Europe.
China was now manufacturing the equipment mainly to meet its own rapidly growing demand for wind farms and with increased output the prices could be forced down further with exports from there in the long-term.
Wind Energy Association chief executive Fraser Clark said contract prices for new turbines, towers and transport had fallen between 30 and 40 per cent since their 2009 peak.
If manufacturers were certain of demand they stepped up production.
The high New Zealand dollar was also helping offset costs.
Germany's announcement that it will phase out nuclear energy by 2022 also raised the chance of more global manufacturing of wind equipment.
About a quarter of Germany's power comes from nuclear plants and wind energy would be a big part of a replacement programme.
Clark said the German decision would put even more onus on the wind sector.
"It's a matter of how quickly that starts to come through but increasing the base of known development activity is the spur for people to continue to expand manufacturing," he said.
"People see the opportunity - the market size has increased then there's more certainty and incentive to build new manufacturing facilities, more competition and lower prices and technology improvements."
Developments in aerodynamics, gearboxes and more easily maintained equipment were improving the economics of wind.
Wind generation capacity has doubled in New Zealand during the past three years but there had been a pause in committing to new projects as more geothermal and gas-fired generation has come on line and the economics of wind remain marginal.
Wind accounts for just under 4 per cent of all generation over a year but on low demand days, such as Boxing Day, it can make up 10 per cent of generation. In Denmark, wind farms were responsible for up to 80 per cent of generation on some days.
A world energy review released by BP last week says wind power generating capacity grew by 24.6 per cent last year. The trend rate of capacity growth over the past 10 years is 27 per cent a year - a doubling of capacity every three years.
Clark said while wind generation was government-subsidised in other countries, there were no such schemes here for generators.