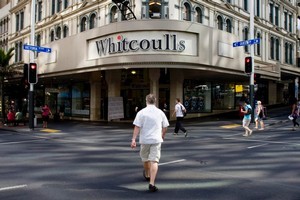 Book retailers Whitcoulls and Borders have been sold for an undisclosed sum.
The sale was confirmed this afternoon by Ferrier Hodgson to Project Mark Limited, a company associated with Farmers, which is owned by the Norman family.
There has been speculation about who will buy the book chain for some time with industry insiders last week claiming "word on the street" was that the Normans were set to seal the deal.
Project Mark Limited is a company in the James Pascoe Group.
The James Pascoe Group operates the brands Pascoes, Farmers, Stewart Dawsons, Goldmark, Stevens, Prouds and Angus & Coote.
Ferrier Hodgson partner Steve Sherman said the sale involved 57 Whitcoulls and five Borders stores, and is expected to be complete by mid-June.
It would save jobs and could revive the flagging retailers, he said.
"This is a very good result.
"The sale guarantees the future of the majority of stores and has
preserved more than 900 jobs. The James Pascoe Group is known for reviving businesses and has a strong record of investment in their stores, stock and people."
National Distribution Union general secretary Robert Reid, who is also a member of the Whitcoulls creditors' committee, said the 900-plus workers at Whitcoulls and Borders would welcome the news.
The NDU represents workers at the Whitcoulls distribution centre in Auckland and some others in its retail outlets.
"Our union already has a relationship with James Pascoe Group. There are several hundred workers at Farmers who have an NDU collective agreement with Pascoes-owned Farmers Trading Company.
"We will be able to build on this relationship to ensure that the employment rights of Whitcoulls and Borders workers are protected during the transition."
Anne and David Norman were estimated to be worth a collective $400 million in 2010, according to the National Business Review Rich List.
A publishing industry source, who did not want to be named, said the Normans' bid could be positive for the industry because the couple had a good record with their other businesses.
They have a strong history in retail and revived the Farmers brand after buying it in 2003.
The couple preside over Pascoes, a giant retailer with 611 outlets across New Zealand and Australia, Stewart Dawsons, Prouds, Goldmark, Angus & Coote, Stevens and Farmers.
They bought Farmers for $123 million from Australian supermarket operator Foodland Associated.
REDGroup, which owns Whitcoulls, Borders and Bennetts, went into voluntary administration on February 17.
- Susie Nordqvist and Hayden Donnell