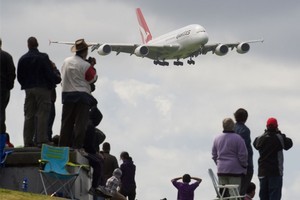 The High Court in Auckland has ordered Qantas Airways to pay a $6.5 million penalty for breaches of the Commerce Act, the highest penalty to date in New Zealand for price fixing.
The penalty was recommended to the court by the Commerce Commission and Qantas as part of a pre-trial settlement in the air cargo cartel case, in the High Court at Auckland yesterday.
"When parties admit breaches of the Act early and co-operate with the Commission's investigation there are significant benefits for them, and it is in the public interest, since court hearings can be a costly and drawn-out way of resolving matters," said Commerce Commission General Counsel for Enforcement, Mary-Anne Borrowdale.
The news came as Qantas pilots earlier threatened industrial action next week if there was no progress in negotiations on job security, prompting Qantas to say it was cancelling 31 flights and delaying 46 others on Friday.
Qantas now says those flights will be reinstated after the union cancelled the planned strike action.
Today's judgement also includes information about Air New Zealand, saying it backed out of fixing prices on outbound cargo in 2002.
Air New Zealand is one of a number of airlines which are defending the charges.
In the judgement, Justice Allan said Air NZ, which is fighting the charges, "ceased to impose a separate fuel surcharge" in January 2002, which ended the viability of the cartel involving Qantas in relation to outbound cargo from New Zealand by making the understanding "unworkable."
Price-fixing on in-bound cargo continued until 2006.
The Qantas penalty brings the amount achieved in settlements of the cartel case to $14.1 million.
"It is appropriate to recognise that Qantas admitted its price fixing at the very earliest opportunity, and is providing genuine assistance with the Commission's case against the defending airlines."
The Commission has also settled with British Airways plc and Cargolux International Airlines S.A.
The Commerce Commission yesterday opened its case in the High Court in Auckland against a group of major international airlines, alleging the airlines colluded to raise the price of freighting cargo by imposing fuel surcharges on shipments in and out of the country.
- Susie Nordqvist with BusinessDesk