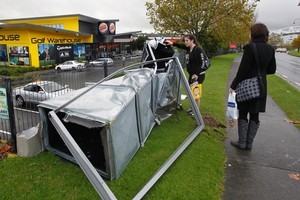 The asset manager representing the owner of tornado-hit Albany Mega Centre was yesterday assessing damage.
Tony Frost of NZX-listed Argosy Property Trust said he was leaving his office in the central city late yesterday afternoon.
"We're just on our way to see what can be done to help," he said.
Argosy, with a market capitalisation of $433 million, owns the massive 2.4ha bulk retail centre opposite Westfield Albany and describes the property as one of its major assets.
Westfield built its mall long after the Mega Centre was created and before other bulk retail strip shops were built on the ridge above the basin. The mall drew a number of other retailers to the area and was the first large strip of shops created, just to the south of the village.
Argosy said the shops were an important part of its portfolio.
"This is a modern complex specifically designed as a bulk retail centre, sited between PlaceMakers and The Warehouse and opposite the new Westfield shopping centre.
Principal tenants of the complex are Farmers, Briscoes, Rebel Sport, along with 23 other retail tenancies," Argosy says.
But Argosy does not own the old PlaceMakers store at the southern end of the complex, Frost said.
Argosy, which listed in 2002, hit the headlines recently after news of a proposed sale of its management contract was released last month. This could see manager ANZ National Bank sell the management rights to investors who already own units in the trust. Argosy was trading yesterday at 79c a unit.