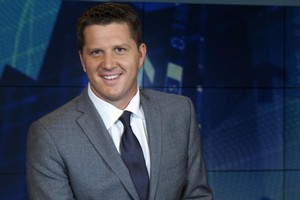 Corin Dann has emerged as the front runner to take over Paul Henry's role on Breakfast.
TVNZ insiders told the Herald on Sunday that Dann's leadership of the network's coverage of the Pike River Coal mine disaster had given his chances a boost.
He also had the right amount of "cheekiness" to entertain viewers, the source said.
TVNZ spokeswoman Andi Brotherston said Dann had been "terrific".
"I think it's fair to say if what Corin did this week was a job interview, it was a very good job interview. I'm sure he will be very happy with his work."
If Dann was appointed, it was likely he would team with Alison Mau in the New Year when anchor Pippa Wetzell went on maternity leave.
He was an experienced journalist who has reported for Radio New Zealand and Newstalk ZB. He hosted NZI Business on TV One.
Brotherston said TVNZ head of news and current affairs Anthony Flannery was "two or three weeks away from firming up the decision" of appointing the new Breakfast hosts.
Insiders believed an announcement would be made at Breakfast's Christmas special on December 17, which would double as Wetzell's farewell.
Paul Henry did not return calls from the Herald on Sunday for his views on Dann as a replacement.