Is Godzone a rip-off? We tried buying an Auckland family's shopping at supermarkets in New Zealand, Australia, Britain and the US - and found we were paying more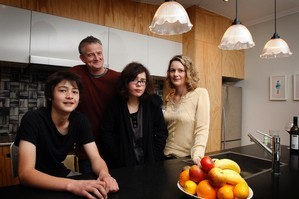 Between them, Auckland couple Kate Woodruffe and Steve Dorner have lived and worked in Japan, the United States and Australia.
They've settled here for family reasons and to raise Jasmine, 17, and Leon, 13, but they say New Zealand is "by far" the most expensive place to live. Not that they're complaining - far from it.
"It's a lifestyle choice and I think a lot of people feel that way," said Ms Woodruffe, 43.
"I lived away for years ... [but] I had kids and I wanted to be by my family. The salaries certainly are smaller here but it's those choices you make. I'm just lucky that what I love happens to pay reasonably well."
With Ms Woodruffe's job in public relations for IBM and Mr Dorner a lecturer at the Media Design School, the family are in the high-income bracket.
Even so, they have noticed increasing costs of milk, butter, cheese, meat and fish and are watching their spending as mortgage rates start to rise.
Ms Woodruffe bakes her own biscuits, cuts icecream and junk food off the menu - apart from "a bit of chocolate" - and concentrates on vegetables and good-quality meat.
"I would like to eat more fish, but fish is ridiculously expensive ... fish is outrageous. We're surrounded by water."
The couple were not surprised when the Weekend Herald found a cut-down version of their weekly supermarket shopping list with 27 basic food and cleaning items cost $138.77 here, well ahead of $116.15 for the same shopping list in Britain and $122.52 in the United States.
Only Australia ($149.92) was more expensive.
"I've got a brother who's in London," said Ms Woodruffe. "He was always complaining, 'God, I can't believe how expensive it is here. It's so much cheaper to live in London'."
Her husband's twin brother, who lives in New York, tells a similar story.
"They can go to the markets and buy New Zealand snap-frozen orange roughy - enough for a dinner party for US$7. It's New Zealand's fish. Whereas here, even when you see it, it's like $40 a kilo."
Mr Dorner, who is from the United States, also notices the costs here - along with his friends, many of whom took pay cuts to shift to New Zealand.
"They are quite surprised at the cost of living here now ... the rental accommodation, food, the price of properties, eating out."
The former Los Angeles resident said New Zealand living costs were up there with the most expensive US cities - and yet salaries were lower. "I wonder how people can live in Auckland. It's just ridiculously expensive for anybody who's working at that lower cut of salary. You just wouldn't be able to get out and do anything.
"We are privileged and we can afford to eat healthily but if we wanted to eat cheaply we would probably have a very poor diet. The cheaper meats are also the fattiest and the cheapest foods are also the more highly-processed foods.
"It must be really hard for people who are conscious of wanting to feed the family a good healthy diet with lean meat and veges."
Ms Woodruffe said the family spent about $350 on groceries each week, including cleaning products and other items.
Mr Dorner, 52, does a weekly shop at Pak'N Save for the main items. They also visit local fruit stores and butchers for specialty meats and buy environmentally friendly cleaning products where they can.
Both emphasise that they feel fortunate to have enough money to live comfortably - and that New Zealand still wins out on lifestyle despite the high cost of living.
"It's quality of life over career choice," said Mr Dorner. "It's raising your kids, it's having nice clean beaches where there aren't hundreds of thousands of people.
"I lived in LA for four years. You'd go to the beach and it was just like a sea of people - you couldn't find anywhere to put down a towel ... it wasn't relaxing by any stretch of the imagination."
How to spend less on groceries
* If you have time, split your shopping. Do a supermarket run for the basics and buy fruit and vegetables at a specialist shop, which will often have fresher goods at cheaper prices.
* Make a list before you shop. This helps you stick to a budget.
* Buy home brands, especially for products where you won't notice the difference anyway.
* Check out specials carefully. Supermarkets use eye-catching low prices to attract customers but it's not worth it if you pay more overall.
Tell us your story
What do you think of the cost of living in New Zealand? Tell us what you think is good or bad value for money. Email newsdesk@nzherald.co.nz