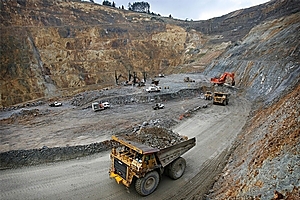 The Government has scrapped plans to mine conservation land in the face of furious public protest, NZPA has confirmed.
Energy Minister Gerry Brownlee will announced the Cabinet's decision tomorrow, after National's MPs have been told about it at a caucus meeting.
The Government had proposed opening up 7000 hectares of conservation land in the Coromandel, Great Barrier Island and Paparoa National Park to prospecting for valuable minerals.
That land is protected from mining under schedule four of the Crown Minerals Act, and more than 30,000 submissions were made on a public consultation document - nearly all of them opposed to changing its status.
About 50,000 people signed a Green Party petition against it, while an estimated 40,000 marched in protest in Auckland.
Mr Brownlee is expected to announce that not only will there be no mining in those areas but all national parks will in future be protected.
He is likely to unveil plans for mining in other, less contentious parts of the country. That could involve Crown-owned land which is not part of the conservation estate.
Earlier today Prime Minister John Key said the Cabinet had made its decisions on mining conservation land, but told reporters they would have to wait until tomorrow to find out what it was.
He indicated, however, that in future the search for minerals would extend beyond conservation land.
"Schedule four is one part of the equation...in terms of wider mineral and exploration opportunities, it's my view that they can deliver a step change in the economy," he said.
The Green Party, which previously forecast the Government would back down because of public opposition to mining schedule four land, said it would break an election promise if it didn't heed the protests.
Party co-leader Metiria Turei said the Government would be getting into "a very big fight" if it went ahead with its proposals.
Labour leader Phil Goff said the Government was the only guardian of New Zealand's conservation estate and it should not allow it to be exploited by foreign mining companies.
- NZPA