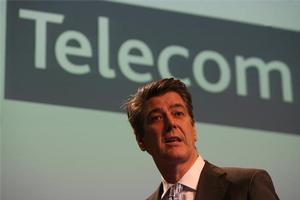 Paul Reynolds, the head of Telecom, has been forced to apologise to customers after an outage on its XT network extended into a second day, sending shares down 0.7 per cent to $2.42 in trading today.
The CEO of the country's largest phone company was forced to apologise after the second major outage on the XT network in as many months hampered thousands of customers' mobile phone services south of Taupo yesterday. The problem has continued to affect some 10,000 people in the South Island today, and Reynolds has called for an "urgent and independent" review of the network.
"I am angry at the recent outages that have affected part of the network, including the one currently affecting customers," Reynolds said in a statement. "I apologise to our customers who have been inconvenienced, but also recognise that words are not enough. That's why we are taking rapid action and I am determined to be up front and open on this."
Telecom has been successful in migrating customers on to XT, with 242,000 people using the new network by the end of the first quarter from 149,000 in the previous period, even as it only attracted 64,000 new mobile customers. Still, a major outage in December affected more than 100,000 customers. Last May, the phone company was forced to increase its network filtering at an undisclosed cost to avoid a High Court injunction when Vodafone Group claimed XT was interfering with its own network.
Reynolds said they will look "closely" at compensation once they have addressed the problem.
The company's stock has declined 2.4 per cent this year, and has steadily dropped since closing at $2.59 on Jan. 8.
Several cell sites in Dunedin, Invercargill, Timaru and Queenstown were not operating and XT users in other areas south of Taupo were experiencing intermittent service issues, Telecom said in a statement about 1.30pm.
Southland Federated Farmers president Rod Pemberton says farmers have come to rely on their cellphones. He says the breakdown is a pain, but Southland farmers are more frustrated than angry about the problem.
Labour is also calling for Telecom to get its act together. MP Ross Robertson says Telecom needs to urgently sort out the issues with XT before businesses, particularly smaller ones, suffer further financial difficulties.
Engineers worked through the night and would continue this morning to restore service to 40 of the 1000 South Island cell sites still affected, which left about 10,000 customers south of Christchurch without service this morning, he told Radio New Zealand.
Telecom CEO Paul Reynolds is again apologising to customers and says the company's focus at the moment is on fixing things. He said today the crash was caused by a piece of hardware which began signalling erratically and degrading the network's service.
Telecom will look closely at claims for compensation once the problems are sorted.
The company is advising anyone making a 111 emergency call in the lower South Island to use a landline and not their mobile.
"Some customers have not been able to make calls or been out of service for a substantial period of time and of course we will look sympathetically at compensation for those customers," Dr Reynolds said.
Customers were offered a day's mobile usage, plus a weekend of free calling, after the December 14 network crash.
That fault was attributed to corrupt software, uncovered during maintenance, triggering a network-load equipment failure.
Dr Reynolds yesterday commissioned an independent review into the two network crashes since XT's May launch.
He said the company was already working on improving the capacity and design of the network.
- ADDITIONAL REPORTING: NZPA, NEWSTALK ZB