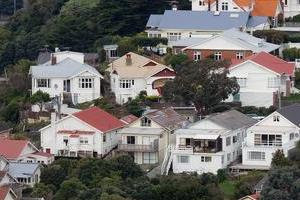 Stable, depressed and rising - that's the spread of predictions for the housing market in 2010.
The fortunes of the sector, estimated to be worth $500 billion, are of more interest to New Zealanders than any other business because we have so much of our wealth in housing.
Barfoot & Thompson managing director Peter Thompson reckons the sector will stay much like it was in early December.
"Neither up nor down a lot, just fairly stable. Where we are now is where the market will set. I can't see it going up a lot more or falling away because we have a very steady market and there's now a balance between buyers and sellers. Prices in Auckland will continue to sit around the mid-$540,000 mark."
NZIER principal economist Shamubeel Eaqub predicts rising interest rates and falling net migration which he reckons will push the housing market down.
But Thompson says it will be precisely these factors which either keep it stable or push it further ahead.
"Those things can have a reverse effect. They can stop people listing their houses and that creates a scarcity which sees prices rise. New Zealanders will just take their places off the market rather than suffer any loss. So listings become harder to get and there will be buyers in the market still."
Asked if he backed the Reserve Bank's moves to discourage housing investment, he was equivocal.
"I neither support nor oppose it. I think you need to look at the success of investments in other areas, how much people have lost in the sharemarket and finance companies.
"New Zealanders like a roof over their heads. If people ask what they should be doing with their money, I say they should have a spread of assets: some in shares, money in the banks and put some into property."
The Reserve Bank predicts annual house price inflation will reach double-digit rates by early 2010 before easing back to 2 per cent in 2011.
High household debt levels appear to be less constraining on house prices than previously thought. Low mortgage rates and high net immigration will push up prices, the bank says.
"Rising house prices suggest household spending will also increase. The housing market has picked up pace over the past few months. House prices have regained most of the fall that occurred over 2008 and early 2009. At the current rate of house price growth, the 2007 peak in nominal house prices is likely to be regained early in 2010."
Westpac senior economist Doug Steel said the market peaked in the year to February 2004 when 120,000 houses were sold. In the year to November 2009, just 69,000 houses were sold.
He is reluctant to pick the numbers for 2010 but said volumes would be "way north of 72,000". Westpac is picking 6 per cent house price rises for 2010 but in 2011 prices will remain stable because of higher interest rates.
BNZ chief economist Tony Alexander is taking an optimistic approach.
He noted the Reserve Bank predicting firm house price gains over the next few years and average house prices rising by 8.5 per cent over 2010 and 5 per cent over 2011.
"These numbers sound about right to us and probably also to the many people who took advantage of the buyers' market earlier this year to get their first home or increase their investment exposure.
"If you are still waiting for house prices to collapse 40 per cent best go to one of those islands expected to be swamped as sea levels rise."
Alexander also rejoiced in getting his house price outlook right for 2009.
"We forecast house prices would decline on average 10-15 per cent. They fell at worst 11 per cent.
"Second, rather than say we then expected house prices to rise (people were just too sensitive towards such positive talk) we invited people to read between the lines from our comment that if one wanted to make a canny purchase in the housing market then one should get it done before the middle of [last] year.
"Since [last] January average house prices around NZ have risen 9.4 per cent and by some measures are back to where they were late in 2007."