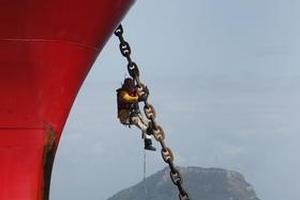 A public rally outside the Ports of Tauranga will take place today as Greenpeace tries to keep the pressure on Fonterra to stop the use of palm kernel feed on dairy farms.
Greenpeace spokeswoman Suzette Jackson said there has been huge support from the people of Tauranga over yesterday's protest action that saw 14 Greenpeace activists prevent the Hong Kong-registered ship East Ambition unloading at Tauranga's port on schedule.
The dairy giant is refusing to limit its use of foreign palm kernel animal feed after protesters lashed themselves to the container ship to draw attention to what they argue are harmful imports.
Last night, all had been removed and charged with illegally boarding the vessel.
The East Ambition was at anchor 3km off Tauranga when the protesters boarded it from a small boat before dawn yesterday.
Two, Dom Zapata and Sara Borrero tied themselves to the anchor chain and the pilot ladder, bearing signs that read "Fonterra Climate Crime".
Police cut them free and they and another protester on the boarding craft were charged with unlawfully boarding a ship.
Ten protesters - five men and five women - chained themselves to the ship's cranes, four storeys above the deck.
Once the East Ambition berthed last night, police used a crane and cage and were lifted so they could cut the protesters free.
Police said all the protesters would be bailed to appear in the Tauranga District Court within a week.
The protesters called for imports of palm kernel to feed dairy cows to stop, saying the crop contributes to deforestation in Indonesia and Malaysia.
They also urged Prime Minister John Key to recognise the negative impact of the imports on climate change.
But Mr Key said he was not going to stop imports of palm kernel, because it was "used for about 1 per cent of feed in New Zealand".
"It's a waste product, in my opinion it's not leading to deforestation and on that basis I have no intention of intervening," he said.
Fonterra claimed the vessel did not carry any of its feed, and that the kernel it imported for its dairy farms came from sustainable suppliers.
Federated Farmers president Don Nicolson said the protesters should be prosecuted as pirates.
"I fully respect the freedom of Greenpeace to protest legally, but they have crossed the line by interfering with legal commerce and free navigation on the high seas."
Greenpeace said the use of palm kernel for animal feed undermined New Zealand farmers' "clean, green" claims.
Campaign director Chris Harris said only 4 per cent of palm oil came from sustainable sites.
Statistics New Zealand showed that 1.1 million tonnes of palm kernels - almost a quarter of the world's supply - are sold to New Zealand a year.
New Zealand farmers' use of animal feed has increased because of drought, the higher cost of locally grown grains, and the increasing intensification of farms. Grass provides 95 per cent of dairy cows' diet, and the other 5 per cent is supplements such as kernels.
- NZHERALD STAFF and NZPA