Talking to a Russian (or Belarusian) boxer and his translator proves to be a surreal experience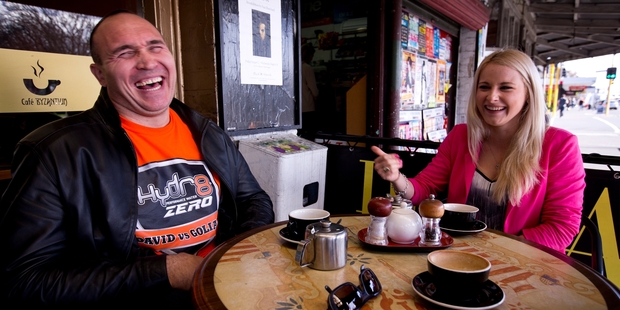 Would I like an interview with the Russian boxer, Alexander Ustinov, in town for his fight with David Tua this month?
How's his English?
He doesn't speak any English.
Then probably not.
There's a translator.
Still, probably not.
The translator's hot!
Oh well, then. Why not?
There was also an enticing story, something about a fight in a bar with - was it nine? - Russian mafia thugs, which ended (I think, I was a bit distracted by the idea of a hot Russian translator) with him getting a knife stuck in him and carrying on fighting and winning against the nine - or was it 10? - Russian mafia thugs.
It is still a mad idea and I wouldn't have contemplated it for a moment had it not come from Duco Events. The last time they came up with an interview idea, I found myself watching a South African boxer, known as The White Buffalo, eating buffalo in a fancy Auckland restaurant. So I am always intrigued by their ideas, which border on the surreal.
They are, I've come to think, the modern day equivalent of the Ringling Brothers. They bring circuses to town and I've always had a soft spot for a good circus - and I was fairly certain I could work up at least as much enthusiasm for a hot Russian translator.
The enormous boxer arrived at the Ponsonby cafe with the translator, who is tiny and blonde. Another clue to the possibility that I may not have been paying close enough attention to the pitch - her name is Katya Nosova, which, even with my limited knowledge of things Russian, I believe to be a girl's name. Actually she is Belarusian and is a gymnast and was wearing a rather sexy fringed top which no doubt many blokes would find very hot indeed. What she was not was a hot Russian man, but as she is very sweet and pretty I could hardly hold that against her.
And, never mind, it'd make a good story to tell them, I thought. That came later and turned out to be the wrong thought, but that realisation came later still.
First things first: Would they like coffee? Tea? "Caviar!" said the boxer. Things were going swimmingly. Language problem? What problem?
He was just joking. "Nyet! Nyet!" They would both have green tea. With a splash of vodka? Nyet! Alas. Katya went off to put on some lippie, which left me and the boxer, smiling at each other, across the table.
It was a beautiful day, I said. "I have little English," he said. Oh well, I had no Russian, I said. We laughed and laughed. I was laughing nervously; I don't know why he was laughing. He has a sweet face, like a big happy moon, and a great big laugh. We sat there and smiled at each other some more. He said, valiantly searching his English vocab: "Maybe ... milk. Chocolate." I said, desperately: "David Tua?"
"Da! David Tua!" I said: "I like your T-shirt." It was bright orange and it said: David vs Goliath. "The glamour." he said, and we laughed like loons.
Katya arrived back, freshly lipsticked, looking quite hot, I have to admit, and said, of the T-shirt: "It's Double XL."
He is a tad over 1.98m and weighs about 135kg. When he went to Korea people pointed at him in the street and jumped up and down - they thought he was so tall he couldn't see them - and said: "Hello! Hello!" Katya said: "He says he's been in quite a few Asian countries and in all of them, tall people for them is like something 'wow!' Something extraordinary.
And he says: "They like to touch me. They think if they touch me, they'll be lucky and grow a little bigger as well."
I am 1.63m. I touched his arm and he laughed - boom, boom - and said: "Tomorrow you will be bigger."
Tua is about 1.72m. I thought I'd better ask a boxing question. Wouldn't he get a sore back leaning down to punch him? He said: "I'll only get a sore back if I'm carrying him for 12 rounds!"
I said: "Tell me the story about the fight in the bar with the nine Russian mafia guys." Katya didn't need to translate that. He was already laughing at "mafia". She said: "Every time the story changes! Every time more people come into the picture. Before it was just some drunken guys, now it's the Russian mafia! He says: By the time the fight comes, the story will grow bigger and bigger and it'll probably be 20 people, the Russian and Chinese mafia, and he'll be the hero!"
The story, I said, was like Putin's fish - meaning a recent story about Russian President Vladimir Putin catching an enormous fish, which seemed to grow bigger in the telling.
I thought that might be a bit tricky to translate, but he said: "It's not just Putin. It is all the fishermen!" Yes, but Putin has to have caught the biggest fish in the world. "Ha, ha! Um!"
Da? "Da!"
Anyway there was a fight in a bar but no mafia were involved. "A random girl, a stranger girl, walked past and another group of drunk guys started throwing negative comments at her and so he had to defend the girl and he got a big cut on his hand and, yes, he did get stabbed as well. He's got a scar which is close to the heart. He was really lucky because it hit the rib and if not, it would be pretty serious."
He showed me a cut on his hand and Katya said: "He's just joking!" It was an old wound from when he cut himself as a kid. He likes a good joke.
I like a good tough guy yarn. I said that by the time I'd finished writing the mafia story there would be 100 mafia guys on the floor of that bar. The fish was growing. Katya said: "Soon it'll be a whale!" He said: "We could make a good fisherman out of you!"
"But the funny story," Katya said, "is that he got injured quite badly and he went to hospital and he was already at the peak of his kick boxing career [he was a world champion kick boxer before switching to boxing] and he spent one night in hospital and the next morning his coach rang the hospital and said: 'Get out of there and get on a flight.' And the next morning he started training and that was at the end of July and in October he won the European champion-ship."
That's crazy, I said. "That's Russians!" said Katya.
He was born and grew up in Russia but now lives in Belarus where he is managed by the famous-in-boxing-circles brothers Vitali and Wladimir Klitschko. He comes from a middle-class family who I assumed were all giants but he got all the big genes - from two grandfathers. From school he went into the Russian army, but it is no use asking him about this, in any language.
He was, Katya says, "you can say, maybe like special forces. I know he doesn't like talking about this but he was in a big foreign war in Chechnya, but that was, you know a horrible place, lots of people died. He got the Order of Bravery, I think, from the government. He's been through a lot of bad things."
He is 36 and has never been married and doesn't even have a girlfriend. "There is one but she doesn't know it yet. Because I haven't met the right one yet." But why hasn't he? "People, especially women, do like attention and I don't have the time to give that much attention. I've got something else on my mind."
Is he rich? "Very! Like Abramovich!" Where's all his bling? Bling is another word which needs no translating. He pulled a face and showed me his blingless, ringless fingers. Katya said: "He is talking about the soul, you know, and being rich is having a big soul, a big heart. It is not the person who is rich that is happy. It is in the soul or the heart or the mind."
I have no idea why, but that seems a very Russian answer. He hardly drinks vodka which doesn't seem very Russian, I said.
He and Katya laughed and said that New Zealanders drink more vodka than Russians, to which I said and say: Hmm.
He gets recognised quite a lot, especially in Ukraine, and he doesn't mind being a bit famous except when drunks in bars decide to have a go. You'd have to have a death wish, I'd think, to have a go - even without knowing about the Russian special forces stuff.
"He wouldn't hurt a fly!" Katya said.
Which is about when I decided to tell them the story about the promise of a hot Russian translator. You may well be able to imagine how that went; I have no idea why I didn't.
Katya said: "I'm sorry." He said: "Were you disappointed? I am not good-looking enough?"
Having potentially managed to offend the only two Russians (or Belarusians) I've ever met within 20 minutes of meeting them (luckily for me they are both good sports), I then compounded the madness of the situation by saying: "The expression is: 'What am I? Chopped liver'?"
This was relayed as: "What do you eat? Chopped liver?" Which I was able to eventually unravel only because the answer was: "Milk. Beef. Pork. Lamb. Steak!"
I was doing well today, I said. He said, kindly: "Well, life goes on."
I'd thought that not being able to speak English would have put him at a disadvantage when it came to the obligatory pre-match trash talk (the Russian for trash talk is, by the way, trash talk) but he says he wouldn't do it even if he could speak English. Because it's silly? "That's why it's trash." Everyone seems to do it. "But I'm not everyone. And what if everyone jumped off the building. Would you go and do that? So we are all a different type of person."
I asked if you can be a great boxer and a nice person and Katya said: "He's the nicest person I've met. This is my first time meeting him."
He certainly has lovely manners. He vanished inside the cafe and when I went looking for him he was paying the bill - unheard of - then he posed for a photo with the cafe owners. It is a very funny photo. They are Chinese and even shorter than me.
So he is nice and so we have the nice little David fighting the nice big Alex. He said: "Ha! Are you trying to choose which one to support?"
It's a close contest and might depend on whether I grow taller in the night. But as far as surreal interviews go, this one trumped even The Buffalo lunch and that's saying something.
• The David vs Goliath fight is scheduled for August 31 at Claudelands Arena, Hamilton (pending a decision on Tua's calf injury).