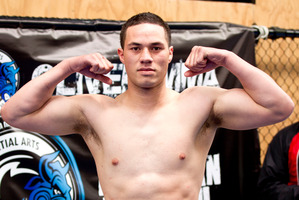 Rookie professional heavyweight Joseph Parker is being lined up for his first high-visibility fight in Burbank, California, next month as a warm-up for his June bout against South African heavyweight Francois Botha.
Wary of putting Parker in against such a seasoned pro as Botha without effective lead-up fights, promoters Duco and trainer Kevin Barry are trying to arrange a May 16 fight at the well-known Englebrecht Promotions event at the famous Lakeside Golf Club - known as the "Rumble On The Range".
The golf course was originally founded in 1924 and was a favourite haunt of US comedy icons Bob Hope and crooner Bing Crosby.
At Burbank, part of California's movie and media district close to Hollywood, it also hosted the likes of WC Fields, Oliver Hardy, Don Ameche, Olympic swimming gold medallist and Tarzan actor Johnny Weissmuller, cowboy-actor Gene Autry and former President Ronald Reagan. The connection with Hollywood celebrity remains and, at last year's version, actors and boxing fans Joe Pesci, Andy Garcia, Sylvester Stallone and Scott Baio were present.
The ring is set up on the driving range at the famous old course with a full evening of fights and entertainment.
The boxers are generally second-tier or club fighters but promoter Roy Englebrecht has made a success of this and similar events - his "Battle In The Ballroom" at the Irvine Marriott in California has been going for 24 years and 36 current or former world champions have fought there.
It's all a far cry from the unknown opponents and low-key venues of the 21-year-old Parker's first four fights as a professional.
He has never fought eight rounds (he's been set down for six-round bouts so far but he has finished all his fights early) and the durable Botha, with a boxing CV as long as Sonny Bill Williams' arms, will be a difficult opponent.
That will be especially so as Botha is keen to remove the stain of the farcical "shortened fight" against Williams in Queensland earlier this year - a contest that did neither fighter any favours.
Williams appeared close to being knocked out at the end of 10 rounds as a desperate Botha tried to finish matters after he claimed the fight had suddenly been shortened from 12 rounds. Allegations of bribery and drugs followed as the bout lost most, if not all, its credibility.
Botha, 44, has fought Lennox Lewis, Mike Tyson, Evander Holyfield, Wladimir Klitschko and Michael Moorer - world champions all. Though Botha lost to them all and has not held a major world title, he is a far cry from Parker's opponents thus far in his fledgling professional career.
The opponent for May 16 has not yet been settled and Barry says one heavyweight who agreed to take the fight had pulled out yesterday after watching footage of Parker on the internet.
"He rang us up and said: 'Not a chance'," a wry Barry said from Las Vegas. "I have another couple of prospects waiting and we want this fight for specific reasons anyway. It's not just that it will be a bit of a rehearsal for Botha for both Joseph and I. We have only been together two weeks [Parker is training with Barry in Las Vegas for the next month or more to prepare for Botha] and it will put us in a real fight situation.
"It will give me a chance to study Joseph before the fight, on the day of the fight, to see his demeanour in the dressing room, how he handles things, and whether he listens to me and how he reacts to me in the corner - all very important things to know. You don't want to leave things to chance until he fights Botha.
"The fight will also give us a chance to employ some of the changes we have made; modifications to his technique that we are both very happy with so far.
"We are expecting Botha, with all his experience, to try and tie Joseph up - so we are looking for an opponent on May 16 who will do the same kind of thing.
"That will help me to see whether Joseph actually follows the fight plan or whether he reverts to his old style - stand too tall, move in close and try and mix it up."