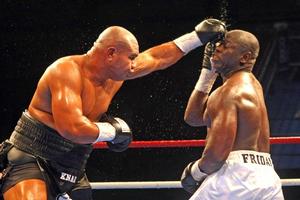 Maori TV declined an approach by David Tua's promoter Cedric Kushner to release Tua from his contract so Tua could earn more money.
The approach by Kushner "on behalf of David Tua and his wife Robina and myself" was made in a hand-delivered letter just before the Tua-Friday Ahunanya fight in March.
The letter was missing from the material obtained by the Herald on Sunday last week through the Official Information Act.
When approached about the letter, Maori TV's general manager of sales and marketing, Sonya Haggie, said it was "an oversight".
In an email delivering the letter, she said: "Had we remembered about the letter, I assure you that you would have been provided with it last week as part of our OIA response."
Later, Haggie told the Herald on Sunday the letter had been missed because it did not involve Duco Events, the promoter of the past two Tua fights, and was outside the OIA parameters.
The letter tends to confirm the contention of Duco spokesman David Higgins, whose email to Maori TV maintained the contract to broadcast Tua's fights was costing the boxer "over $1 million in lost earnings".
He felt that was occurring while the broadcaster was creating an image for itself of "supporting Tua".
The deal prevents Tua seeking pay-per-view revenue in New Zealand for the three fights (including the Ahunanya bout) for which Tua was contracted after the Shane Cameron match. Both received $500,000 as a purse from that fight, broadcast PPV over Sky.
In the letter Kushner, Tua's agent and promoter in the US, advocated Maori TV releasing Tua for the last two fights, so he could gain PPV revenue. Maori TV could stage a delayed telecast for no cost.
"We could have a major press announcement explaining that we have negotiated an amicable solution and project Maori Television in a highly positive light," Kushner wrote.
"The only alternative I can think of that would legally comply with your agreement is to go out and find a small venue and over a period of two months fight two unknown nonentities with both fights being held in New Zealand, with an amateur undercard.
"This is what people have told me to do for the last 9 months and as you know, I have not entertained this idea but now after promoting tonight's fight, and losing quite a significant amount of dollars, I am faced without an alternative but to proceed with option 2.
"... The second option is obviously a totally negative solution for all concerned, and something that I sincerely would not want to bring into play."
In an email to Haggie, Mather said: "I read the letter immediately and told him [Kushner] I doubted his second option was actually viable for him to implement and I was not interested in any variation to our Agreement.
"There appeared to be a level of desperation in Cedric's approach today and there is now clearly collusion between Kushner and Duco to get future Tua fights on Sky PPV.
"Legally and morally we are in a strong position and we need an excellent broadcast tonight to win over the support of the NZ public.
"I thought you should be aware of this info as I expect the anti Maori TV campaign will be stepped up by Duco and Kushner after the fight. I am disappointed with Cedric and told him that."
Kushner did not proceed with option 2 and Tua is due to fight in the US in July.
Mather said he had asked if the letter represented Tua's feelings but was told only Mather and Kushner knew about it.
Kushner was in hospital in New York after an operation and was not available for comment. Higgins declined to comment.
Robina Tua said: "I am not going to confirm or deny anything to do with that letter. David will honour his contract with Maori TV. We have moved on and we think everyone else should do the same."