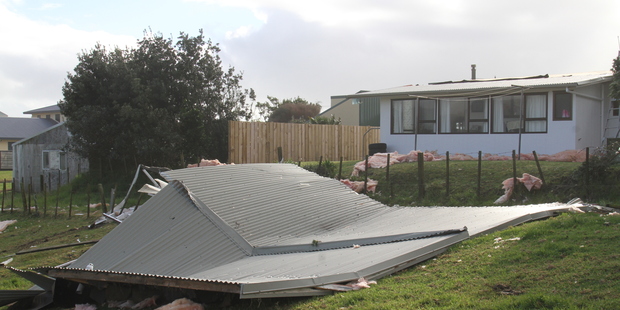 The high winds tore the roof off a house on Seaforth Rd in Waihi Beach.
Louisa Duckmanton, who has lived in the house around 30 years, was woken about 4am.
"I heard a big bang and thought it was the deck - I looked out of the (front) window and the deck was gone - but when I looked out the back there was all this pink stuff," she said.
The "pink stuff" was the roof insulation and the roof itself had been dumped in a neighbouring paddock.
Wild weather has wrecked havoc throughout the region but forecasters warn the worst could still come later today.
With no power and a faulty cellphone, she had to brave the elements and wake her neighbours who called the Waihi Beach Volunteer Fire Brigade.
Louisa was philosophical about the damage.
"You can't do anything about nature. You can't compete with nature."
The call was one of a number received by the volunteer fire brigade over night, including one to remove a trampoline that had blown onto a roof.
"We had a very busy night - I only got a couple of hours sleep," said deputy fire chief Barry Ross.