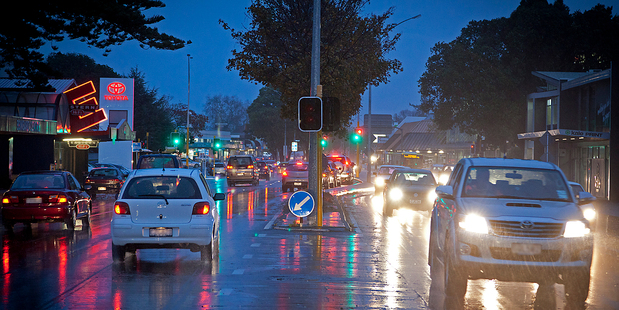 UPDATED 5.13pm: Most customers who lost power during yesterday's high winds are expected to have their supply restored by tonight, Powerco has said.
Powerco acting network operations manager Dean Stevenson said field crews had restored power to nearly all the 30,000 customers who had lost supply from the storm. Good progress had been made today with just 200 customers currently without power.

THURSDAY 2.17pm: About 2000 customers in the Bay of Plenty, South Waikato and Coromandel areas are still without power today, Powerco acting network operations manager Dean Stevenson said.
Field crews had already restored power to about 28,000 customers, he said.
"Field crews were having trouble accessing some areas to repair faults due to road closures, flooding and storm debris."
Mr Stevenson said that as well as repairing current faults, crews were on alert, with further high winds expected for the northern Bay of Plenty and Coromandel areas between 8pm and midnight tonight.

WEDNESDAY 4.41pm: Western Bay of Plenty homes without power are being assured electricity will be restored soon.
Powerco stated earlier today that 30,000 homes in Tauranga, south Waikato and Coromandel had experienced wide-spred power cuts.
Powerco Acting Network Operations Manager Dean Stevenson said field crews had worked hard today to restore supply to 20,000 of these properties.
Omokoroa, Papamoa, Oropi, Pyes Pa, Te Puke, Te Ranga, Whakamarama, and Whangamata were among the areas listed as still without power this afternoon.
Powerco stated it should have power restored to these areas by 7pm.
3.05pm: Bay of Plenty Civil Defence is warning people to ensure they are prepared for emergency as heavy rain and power outages continue to wreck havoc.
Emergency management group controller Clinton Naude said the severe weather warning issued by Metservice remained in place but no activation of local Civil Defence had been required so far.
"There's been some isolated reports of surface flooding, mainly in Tauranga due to heavy overnight rain and some power outages in the Western Bay of Plenty due to strong winds and downed trees, however these are all being well responded to through normal operational processes," Mr Naude said.
"We'll continue to monitor the situation over the next 24 hours. People should keep themselves informed by checking weather updates and as always ensure they are prepared by securing outdoor equipment and checking that their household emergency survival kit and emergency plan are ready to go," he said.
Wind and rain has persisted with western Bay of Plenty to Matata receiving up to 115mm of rain.
Overnight wind was stronger than forecast and gusts up to 70kph have been recorded at the Port of Tauranga.
2.32pm: Wild weather continues to wreck havoc in the Western Bay of Plenty, blowing out windows from their hinges, ripping rooves from houses and sending trampolines flying.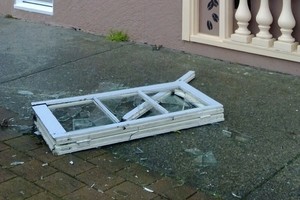 A tenant on the second storey of the Salva Dor Restaurant & Pizzeria on the corner of 4th Avenue and Cameron Rd woke up this morning to discover a large bay window had blown out overnight.
The woman who did not wish to be identified said she does not know what time the damage occurred, because her bedroom was located on the other side of the building.
"It's really, really dangerous. The storm was really scary. Luckily no one was walking by when the window blew out, "she said.
It is understood several properties in Tauranga and Mount Maunganui have been flooded, just as Tauranga City Council announces road closures in Oropi, Poike and Greerton.
11.56am: Thirty thousand people in Tauranga, Coromandel and South Waikato have experienced power cuts this morning due to high winds battering the North Island.
Powerco acting electricity operations manager Phil Marsh said the first of the power cuts occurred around midnight and reports of damage were still coming in.
Paengaroa, Rangiuru, Te Matai, Te Puke, Te Puna, and Whakamarama were all still listed as without electricity. Power had been expected to be restored by 9.30pm but this has changed to 4pm.
"Field crews are working to restore supply as quickly and safely as possible," Mr Marsh said.
Mr Marsh warned people to treat any fallen lines as live at all times and contact 0800 272727."
10.56am: Wild weather wrecks havoc across the Western Bay of Plenty, including ripping a roof off a house in Waihi Beach and tearing a shed to bits in Tauranga.
Louisa Duckmanton was woken about 4am to her roof being launched from her home and dumped into a neighbouring paddock.
Meanwhile, reader Caroline Casey spent more than an hour dismantling a tin shed that blew apart and threatened to blow over a high fence.
9.57AM: A severe weather warning remains in place for the Western Bay of Plenty with the worst possibly still to come today.
An average of 57.3mm of rain fell across Tauranga city yesterday. More rain, heavy at times, is expected to fall throughout the day with the possibility of high intensity rainfall and thunderstorms this afternoon.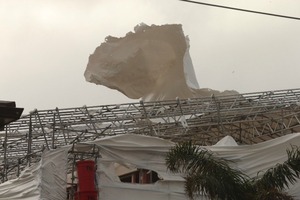 In the 39 hours from 9am Wednesday to midnight Thursday, 100 to 200mm of rain is expected to accumulate about the Bay of Plenty ranges, especially those east of Opotiki, with 70 to 100mm likely elsewhere. Peak intensities mostly 10 to 20mm per hour, but may rise to 20 to 30mm/hr in possible thunderstorms.
Tauranga City Council logged 10 calls yesterday and six this morning as of 9am. These were for minor ponding, debris clearance and blocked drains. The calls included surface flooding on Cameron Rd near Tauranga Girls' College, a trampoline being blown around on Papamoa Beach Rd, and general minor tree branch issues around the city.
A council spokeswoman said contractors and emergency services staff were responding to the issues as they arise.
The council advised residents to check drains at their property to ensure they are clear of leaves and debris; secure outdoor furniture or bring it inside; and if you come across surface flooding or ponding on the road, please drive slowly so your vehicle doesn't send a bow wave into neighbouring properties.
Anyone who needs to report flooding are advised to call the council on 07 577 7000. If it's an emergency dial 111.
UPDATED 8.51am: The strong winds and heavy rain are responsible for several felled trees around the region this morning.
Tauranga police warn of a row of pine trees down across the Ohauiti Rd, plus trees down on Tetley Rd, Omanawa Rd and Pyes Pa Rd.
Sergeant Chris Summerville said a large boulder was also partially blocking Poripori Rd, 200m from State Highway 29.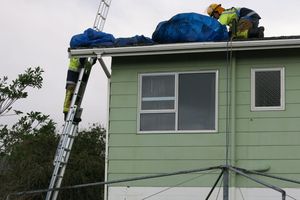 Strong winds reached as much as 61km/h as stormy weather pumelled the Western Bay of Plenty overnight.
The winds were the strongest recorded for the area in the past 30 days.
8.23am: Emergency services have been called to a report of a roof having lifted in Mount Maunganui overnight, as severe winds and rain wreck havoc on the Western Bay of Plenty.
Firefighters were called to the roof lifting in Mangatawa Lane about 8.15am while others throughout the region are dealing with trees over roads and lines Omanawa, Athenree and Pukehina.
Power remains out to Paengaroa, Rangiuru, Te Matai, Te Puke, Te Puna, Whakamarama and Athenree as areas without power this morning.
EARLIER: Wild winds have torn a boat from its mooring in Tauranga Harbour, leaving it to smash up against rocks overnight.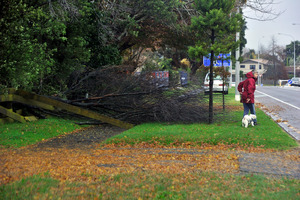 The boat was one of a string of weather related events in the Western Bay of Plenty overnight, including felled trees shutting power off to several parts of the region.
Tauranga police Sergeant Chris Summerville said the boat had come loose in the strong winds and was found banging up against rocks at The Strand wharves.
The owners of the boat were contacted and it is understood the boat has been towed to safety.
Omanawa residents woke to find a large tree blocking Omanawa Rd, a tree is understood to have fallen on powerlines at Athenree and another tree was blocking the road in Old Coach Rd near Pukehina.
Powerco has listed Paengaroa, Rangiuru, Te Matai, Te Puke, Te Puna, Whakamarama and Athenree as areas without power this morning.
The estimated time for restoration is 9.30am.