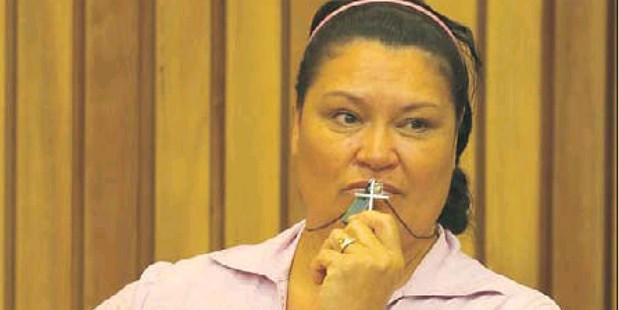 A Bay woman who caused severe injuries to an elderly couple after crashing head-on into their car had drunk a bottle of wine prior to driving.
Brenda Ingarangi Gordon, 45, pleaded guilty to two charges of causing injury while driving with an excess blood alcohol, when she appeared in Tauranga District Court yesterday.
About 5.20pm on November 26 last year, Gordon's vehicle crossed on to the wrong side of the road and collided head-on with another vehicle on Turner Rd, Katikati.
Both vehicles were extensively damaged.
The woman driving the other vehicle was hospitalised with life-threatening spinal fractures to her lower back and internal injuries.
Her husband, a passenger in the car, suffered spinal fractures to his neck and broken ribs.
The couple both required long-term rehabilitation.
Gordon was also injured in the crash, the court was told.
When questioned by police, Gordon admitted she had drunk a bottle of wine that afternoon.
She claimed to be unfamiliar with the road and also told police it was difficult to see due to the dark sky and heavy rain. She said she had not seen the couple's car until impact.
The warrant of fitness for Gordon's car had expired on June 18 last year.
A blood sample analysis was found to contain 116 milligrams of alcohol per 100 millilitres of blood. The adult legal limit is 80 milligrams.
Gordon was a first-time offender.
Judge Paul Geoghegan agreed to adjourn sentencing until March 19 to enable a restorative justice meeting with the victims to be explored.
Gordon was bailed on the condition she does not drive any motor vehicle.
The judge noted Gordon failed to turn up to court on Monday and in failing to do so she had "inconvenienced" a family member of the couple who was at court that day.
Outside court, Gordon told the newspaper that, while she had not been in contact with the couple because of her bail restrictions she had kept herself up-to-date with their conditions, and was keen to meet with the victims to apologise for her actions. "I'm truly, truly, sorry for what happened. It was an accident," she said.