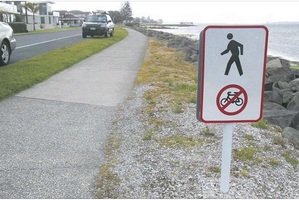 HARBOUR Drive's only footpath has become enveloped in fresh controversy with a counter-petition launched to keep it as a pedestrian-only path.
The 250-signature petition, organised by Harbour Drive resident Stewart Taylor, was in response to an earlier petition that persuaded Tauranga City Council to change the legal definition of the footpath so it could also be used by cyclists.
"Where else in New Zealand do you get the right to ride on a footpath?" he said.
He complained that a small pro-cycling pressure group went to the council to remove the no-cycling signs and the council listened.
Mr Taylor has filed the petition in time for it to be considered by the council when it went through the final formality of changing the footpath's designation to a shared walkway and cycleway.
The original 118-signature petition asking for the footpath to become a walkway and cycleway was led by another Harbour Drive resident and cyclist, Phil Simpson.
Mr Taylor said the footpath was flat, straight and with good visibility for cyclists but so was the low-volume road. It was nonsense to say that forcing cyclists to use the road was dangerous and irresponsible.
He said elderly people in walking frames were sometimes intimidated by cyclists because the footpath was too narrow to be used by both pedestrians and cyclists. "It was never designed to be a shared pathway."
Several neighbours had complained to the council about incidents of pedestrians being sworn at and confrontations over usage, he said. In one incident, a cyclist had insisted on riding through a group of people who were walking their dogs rather than going around them.
"It's not like we have a vendetta against cyclists, it is only the odd one that behaves badly."
Mr Taylor said it would be a waste of money to widen the footpath to 3m so it could be used by cyclists because it was so close to the road. "A lot of cyclists stick to the road anyhow."
Mayor Stuart Crosby said Mr Taylor was more than welcome to present the petition, which the new council could consider before Christmas. He said Harbour Drive was a reasonably narrow low-volume road.
Council transportation manager Martin Parkes said the legal process of changing the bylaw to make the footpath a shared walkway and cycleway had to go before the new council, which may have a different view on the issue.