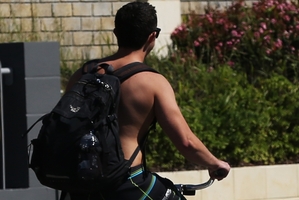 The number of fines issued to Western Bay cyclists has more than doubled in the past year.
As of last week, 133 fines had been issued to cyclists this year more than double the 63 handed out in 2012.
Bay of Plenty Police road policing manager Inspector Kevin Taylor said officers had targeted cyclists during a Be Bright - Be Seen campaign in May and June.
The campaign focused on cyclist visibility, with hi-vis jackets, reflective straps for arms and legs, spoke reflectors and lights given to cyclists to make them easier to see on the road. The increase in fines was a consequence of the higher profile given to cycle safety, Mr Taylor said.
Fines for not wearing a helmet made up 113 of this year's offences, the rest were for cycle lighting offences. Only four tickets had been issued in the past two-and-a-half years for cyclists riding on footpaths.
Mr Taylor said the Bay of Plenty had the highest rate of deaths and serious injuries for pedestrians and cyclists per 100,000 residents in New Zealand.
"All road users need to share the road. No one type of road user has a greater claim to the road space than any other," he said.
"We would ask all road users to not only abide by the road rules but also to show some common sense and courtesy when sharing the road.
"Pedestrians and cyclists are particularly vulnerable road users and motorists need to take extra care around these road users."