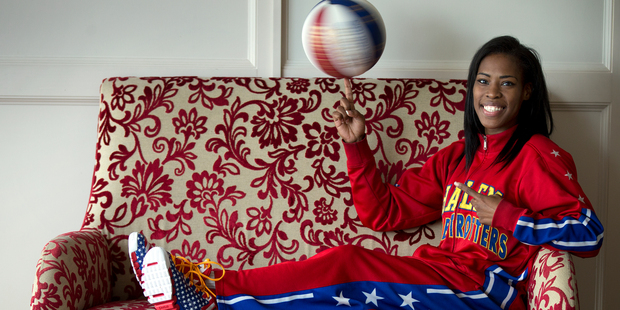 TNT Maddox broke a long drought in 2011, becoming the first woman in nearly 20 years, and just the ninth ever, to join basketball's famously flamboyant entertainers - the Harlem Globetrotters.
The Globetrotters return to our courts for the first time in over a decade when they begin a nationwide tour with two games at the North Shore Events Centre today.
TNT - real name Fatima - was a junior state athletics champ in her teens but basketball won her devotion.
The 29-year-old takes a few questions from the Herald.
You were brought up in ...
Colorado Springs, with my mother and my siblings. I was the only one who played basketball.
How did you join the Globetrotters?
They found me. I'd just got back after playing two years in Sweden. I didn't even know women were allowed on the team. I went to a tryout with three or four women and about 15 guys. I never asked how they knew me but I'd been playing plus working with kids in Philadelphia and I guess it came from that.
What are the requirements?
A good basketballer first and foremost, but also a good entertainer and role model because we do a lot of stuff with kids. You have to be passionate about giving back.
What do you love about being on the team?
The smile we bring to the fans' faces. We're the home team wherever we play and have a great rapport with everyone.
Why were women not picked for so long before you joined?
I have thought about that ... I think women had other outlets during that time, the WBA, sports overseas, and the Globetrotters couldn't find what they were looking for. Fortunately I fit the mould.
Pressure?
Definitely. Every time I step out on the court, I'm the only woman. People want to make sure I'm not a gimmick. It is my pleasure to prove them wrong and let them know I have worked on my craft.
What do people say when they find out you are a Globetrotter?
They always ask: "Is there a women's Globetrotter team?"
Two women have subsequently joined the roster ...
We never play together. The team is split into three units playing in different places at the same time so we have a female in each team which is pretty cool.
What's your best move?
I'm a dribbler and shooter ... I have a lot of tricks but on court it's the crossover dribble which I kind of patented. It's tough to describe but I actually get on the floor. I've been doing little tricks like that since I was younger, trying to be a better basketball handler. I was that little kid dribbling the ball up the street all day long, going out early in the morning and having the neighbours asking me to stop because they were still trying to sleep.
Who has the best moves?
Scooter holds the world record for spinning a ball on his head, Ant is a great dribbler who has landed 22 four-pointers this season ... that's from 35 feet (10m). There's Big Easy of course who is one of our top showmen. He does the half court hook shot and he's hilarious. Stretch is 7ft 4in (2.23m) and can dunk without barely jumping. Bull does stuff like stand on the rim ...
Do players ever get cut from the squad?
Very rarely. Flight Time has been in the team for 14 years, others stay a much shorter time because they have different goals in life.
The toughest part?
Our US tours are gruelling. A different city every day for four months, playing every single night and we practice two hours before every game. But I'm living my dream.
Your favourite player?
LeBron James. He will go down as one of the greats. I've never seen another player like him. He's so big, strong and fast. Usually players that big are not as fast or can't jump that high. It seems he can do everything.
Best advice for kids?
I talk to a lot of kids about this subject ... keep it basic. Just believe in yourself and go after whatever you want with your heart. I started playing basketball at 13 and became obsessed with getting better.