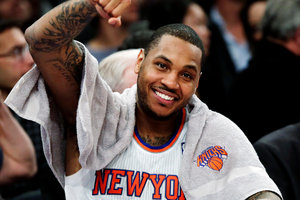 Carmelo Anthony tied his career high with 50 points and the New York Knicks won their ninth straight game, topping the injury-depleted Miami Heat 102-90 yesterday.
Anthony finished 18 of 26 from the field, reaching 50 on a jumper with 16.9 seconds remaining. JR Smith scored 14 and Raymond Felton added 10 for New York.
Chris Bosh scored 23 points for Miami, which played without LeBron James, Dwyane Wade and Mario Chalmers, all out with minor injuries.
The Knicks beat the Heat in three of their four regular-season matchups. They are unlikely to meet again before the Eastern Conference finals.
•John Wall had 27 points, nine assists and eight rebounds and Emeka Okafor scored the go-ahead dunk in the final minute to help Washington beat Chicago 90-86 for its eighth straight home win.
Wall was 8 for 17 from the field and 11 for 13 at the free throw line as the Wizards pursued their goal of becoming the best team not to make the playoffs. They want to pass the Philadelphia 76ers and finish ninth in the Eastern Conference. Not bad for a team that started 4-28. The win left them two games back with eight to play.
Carlos Boozer had 19 points and 12 rebounds to lead the Bulls, who fell two games behind the fourth-place Brooklyn Nets in the Eastern Conference.
•Although Shaquille O'Neal rarely finds himself speechless, he says he's thrilled beyond words to see his jersey in the Los Angeles Lakers' rafters.
The Lakers planned a halftime ceremony yesterday to honour O'Neal. They'll hang his No34 jersey in the Staples Center collection, which includes the jerseys of Wilt Chamberlain, Kareem Abdul-Jabbar and Magic Johnson.
O'Neal is the sixth-leading scorer in NBA history. He played eight of his 19 NBA seasons with the Lakers, winning three championships and reaching four NBA finals.
Although O'Neal began his career in Orlando and played for four more teams after leaving Los Angeles, the 15-time All-Star says he considers Los Angeles his NBA home, and hopes to represent the Lakers in the Hall of Fame.
- AP