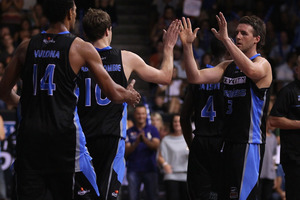 When an athlete comes up against their old team they always seem to find another level of performance.
That was the case again today for New Zealand Breakers guard Daryl Corletto who scored a team-high 20 points to lead the Kiwi hoopsters past the Melbourne Tigers 79-74 at the Hisense Arena in Victoria.
Corletto, who played for the Tigers from 2001-2011 before he was unceremoniously cut loose to make room for Patty Mills during the NBA lockout, joined the Breakers ahead of the 2011-2012 season and hasn't looked back since.
The 31-year-old shot five from six from the floor during the first half, including three of four from beyond the arc as the Breakers took a 53-32 lead with them to the changing rooms at the main break.
Melbourne, who were without point guard and former NBA player Jonny Flynn due to a foot injury, only trailed by one point after the first quarter but the Breakers put the foot down during the second stanza.
The Tigers had nine turnovers in the first half and the Breakers made them pay as they scored frequently from the freebies.
Melbourne fought their way back in to the game during the third quarter as they won the period 22-14 and they moved to within 10 points in the fourth quarter before Breakers coach Andrej Lemanis reinstated his starters to the floor to finish the job.
Down by only four with seven minutes left, the Tigers began to believe they could force an upset and they tied the scores at 70-70 with only five minutes to play.
The Breakers tried hard to throw the game away as they struggled to make plays down the stretch and were held to only 12 points in the fourth quarter.
But if the Breakers tried hard to lose then the Tigers showed even less interest in taking the game themselves as they failed to pull down a string of important rebounds in the final few minutes.
During a frenetic final flourish, power forward Mika Vukona made a clutch lay-up and added a free throw to give the Breakers a five-point lead with less than a minute to play.
The closing act was then played out by who else but Corletto as he drained two free throws with six seconds left to seal his former team's fate.
The victory was the 15th straight by the Breakers as they locked up the Australian NBL minor premiership with two games to go in the regular season.
- APNZ