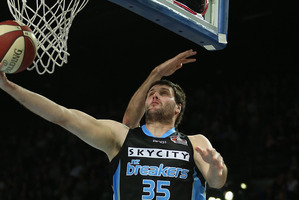 With consecutive titles in the trophy cabinet and seven straight wins establishing them as firm favourites for a three-peat, it's easy to wonder where the Breakers find the drive.
Take Friday night's game against Townsville, a team they had already defeated twice this season.
The Breakers were coming off a gruelling but successful roadtrip which had propelled them back to the top of the Australian NBL. The Crocs may have been winless but they had pushed the Breakers to three games in last season's semifinals, and their struggles in this campaign belied the talent on their roster.
It had the makings of a potential upset, of the Breakers suffering from a combination of complacency and fatigue.
But what happened? The Breakers won by 30.
No matter how seemingly straightforward the task appears on paper, the Breakers find the will to rise to the challenge.
"We just make small goals before each week," said Alex Pledger, who equalled a career-high with 18 points. "They're the things that motivate us each week. Especially in a game like this when we were pretty big favourites."
Last week it was a celebration of milestones for veterans Dillon Boucher (300th ANBL game) and Mika Vukona (250th); this week it was the preservation of a winning streak which now sits one behind their all-time best.
Next week, however, there will be no need to manufacture motivation. The Breakers will attempt to equal the eight consecutive victories they racked up early in 2011, and the team standing in their way are the only side to have beaten the defending champions since they lifted the trophy.
Not only that but the Perth Wildcats will host their arch-rivals in a new 12,000-seat stadium, christened this weekend with a loss to Adelaide.
"We kind of got embarrassed a little bit in that first game," Pledger said of the 21-point loss in round one. "We're playing at their new arena with 12,000 people who don't like us very much. It'll be a good environment to play in.
"Playing against a title contender like Perth in front of that many people will be a great challenge and one we're looking forward to."
Andrej Lemanis thought it the perfect time to play Perth, with his side getting better every game, but denied the existence of any extra significance to Thursday night's encounter.
"You've got to play them four times - the results are the results," he said. "Are we going to try harder? We're going to go out there and do what we do and they're going to do what they do."
But Lemanis did slightly contradict his one-game-at-a-time approach when, immediately after the Townsville game, he discussed the identity of the referees for the clash at Perth Arena. It appeared even the coach couldn't resist peeking past the entree and eying up the main course.
"It's going to be an unbelievable atmosphere," Lemanis said. "One of those ones that they'll be fired up for and we'll be fired up for. It should be a great game of basketball."
- APNZ