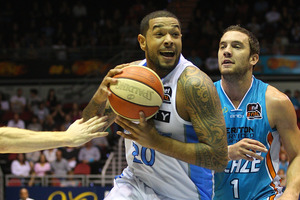 In the end, it wasn't so much what BJ Anthony did wrong that cost him his job at the NZ Breakers - it was his desperation to make things right.
The rampaging power forward this week became the first casualty of the club's revisions with a third consecutive Australian NBL title in mind, released to find a team that could give him the playing time he deserved.
There'll be a lot of innuendo around Anthony's departure and, to be fair, he's left himself open to it.
His brushes with alcohol were well documented and the Breakers finally suspended him for 10 days in February when he was unable to front for practice after a big night on the town. He never made it back on court.
But the team also ordered Anthony (23) to trim down during his absence and, to his credit, he shed about 8kg in double-quick time.
"I was working out so hard, I got this stress reaction in my leg and it never got better.
That probably hindered my value to the team. If I had been healthy after those 10 days, things would've been different. I could have at least shown people I can play basketball, instead of just sitting there in jeans watching."
The Breakers insist their decision to let Anthony go had nothing to do with discipline issues but the perception will be that his lack of self-control cost him a chance to compete for his spot when it counted most.
"That's what people are going to assume," admits a contrite Anthony. "I hope they don't - I hope they give me a fair chance to get into another team. Obviously, I didn't expect this. The Breakers told me they didn't want me over there, getting frustrated on the bench for another season. I was definitely upset - I'm just trying to wrap my mind around it and decide where to go from here."
When the club opted to retain veteran forward Dillon Boucher for one more year, there was no room for Anthony.
At his best, the West Auckland strongman provided a source of energy off the bench. For a few minutes each game, he could stop an unsuspecting opponent dead in his tracks - an under-appreciated art in the sport of basketball.
Promoted to a full contract after one year as a development player, Anthony effectively replaced retiring point guard Paul Henare, subtly changing the balance of the line-up.
He was being groomed to supplant Boucher (36) next season but his wily team-mate again proved he wasn't ready for the knacker's yard just yet.
Anthony's pedigree and ability are unquestioned.
Dad Benny was one of the legendary American imports to play in the New Zealand national league during the 1980s and '90s, and Benny jnr certainly inherited his physicality, if not quite his size and full range of skills.
He's also shown he can mix it internationally, starring for the Tall Blacks during their success at last year's Boris Stankovic Cup in China. But this isn't the first time Anthony's discipline has been challenged.
After missing national selection four years ago, the teenager was told he needed to work harder on his fitness.
He responded by spending a season in the German regional leagues and returning home in sensational shape, debuting for the Tall Blacks in their 2009 Oceania Championship win over Australia and attending the world championships the following year.
Anthony has a European passport through his English mother and that remains an option if no other Australian teams come calling.
Meanwhile, at 1.96m and 115kg, he faces a stern test of will over the next few months as he recovers from his injuries.
Anthony needs an operation to clean out damaged ankle ligaments and will be racing against the clock - and the scales - to make the start of the next ANBL season.