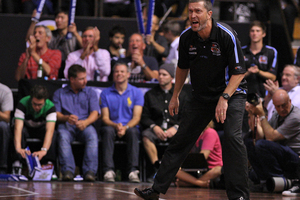 Breakers coach Andrej Lemanis is backing his team to be ready for the playoffs - and avoid a repeat of the pummelling they suffered at the hands of Perth in their opening semifinal last season.
The ANBL champions begin the defence of their crown against Townsville at Vector Arena tomorrow night, a date that has seemingly taken an eternity to arrive after a dominant 21-7 regular season.
The minor premiership was all but wrapped up almost four weeks ago following a defining win over Perth, leaving the Breakers to iron out some kinks and rest weary bodies during the last few rounds.
Last season they led from start to finish, sealing top spot with plenty of time to spare and finishing with a 22-6 record.
But they were beaten 101-78 at home by Perth in the first match postseason, with the bright lights of the playoffs proving too radiant for a well-rested side.
History has repeated, but Lemanis is adamant the defending champions will be able to flick the switch this time around.
"Obviously, we preferred a different result to the Perth result, but it's just a case of coming out and playing," he said. "I think we've played some pretty good basketball coming in."
Lemanis said the key difference between last season and this was the strength of the Breakers' schedule down the stretch.
Their last three opponents before the 2011 playoffs filled the bottom spots on the ladder, whereas this season the final trio of games were against sides bound for the playoffs.
"With our schedule leading in, we've been playing at a good level over this last month or so, against teams that have been desperate to get into the playoffs. I think we're in a good spot for that and I expect us to come out and play well."
Last year the Breakers shook off the disappointment of their first-up playoff defeat by edging a must-win second game in Perth. They completed their quest for a debut title by beating Cairns over three games.
Lemanis reckoned that experience was another factor favouring his side in their pursuit of back-to-back titles.
"On the back of last year ... we've got a few extra guys who understand what it takes to win a championship," he said.
"There's certainly confidence in the group and there's good experience, guys who have been through all of this before."
But Lemanis urged his side not to become overawed by the occasion.
"I think you need to enjoy playoffs whenever you're in them. It's hard to get in there and a lot of people don't get in there very often."
The chances of the Breakers enjoying the occasion should be enhanced by a record crowd for a basketball game in New Zealand, but the coach said a large partisan presence was no guarantee of victory.
"There's been a lot of hype about 9500 people coming in, and that's great, but we need to understand that's not going to get us the win. The game's 0-0 and we need to go out there and do the effort things and the little things that have made us a good basketball team all year.
"If we do those things, then that'll give us a good opportunity to give ourselves the win, and that's when the crowd can actually have an influence."
- APNZ