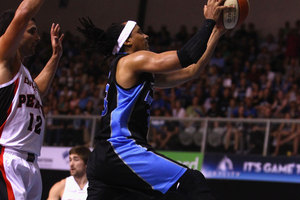 It is an illustration of CJ Bruton's changing role at the Breakers that he was this week among the nominees for the Australian NBL sixth man of the year award.
This is a guy who has picked up four championship titles with three different teams and twice in the last six years been chosen for the league's first team (2006 and 2009). A sixth man is known as the first player who comes off the bench.
Bruton's role might change for the upcoming playoffs - coach Andrej Lemanis is considering starting him again - but for now he's happy to play backup to Daryl Corletto.
It has seen his season's scoring average drop to 9.3 points a game - his career average is 15.9 - and his average minutes to 24, well below his career average of 34.
The 36-year-old's impact on and off the court is no less influential, however, and it's why the Breakers last week signed him to a new two-year deal.
"I don't care what role I play," Bruton said. "I just want to help my team to win. If it was seventh man, so be it. It's not about adjusting to your role, but it's bringing what you have to help the team be successful.
"We talked about six weeks ago when I came back [from injury] about starting me again. I just thought the way the team was playing and Daryl was playing it was good to keep things the way it is.
"I bring another punch off the bench. It just suits our style of play right now. Andrej has suggested that at playoff time I might start, but you never know."
Other Breakers are in the frame for the league's end-of-season honours.
Alex Pledger was also nominated for best sixth man and most improved player, Mika Vukona and Tom Abercrombie were nominated for best defensive player and Abercrombie also featured in the most improved category.
Only one title, however, matters to the Breakers and they are getting closer to the pointy end of the competition. It has seen like an eternity since they wrapped up top spot on the table but they still have two regular season games remaining, and they travel to take on Townsville on Friday night and Gold Coast on Sunday.
As the club prepare for finals basketball, and moved swiftly to book out Vector Arena to play all their home games there, the players have attempted to follow the cliche and look no further than the next game.
So far they have done that successfully, having won their last five. In fact, they have lost only one of their last 11 to hold a two-game advantage over Perth in second with a game in hand.
Their next two games hold considerable significance given they are likely to face either Townsville or Gold Coast in next Friday's first semifinal and results in the matches will have an impact on who they play. But they are also mindful of going into the playoffs with a fully fit squad.
"For us, it's about going out to win," forward Gary Wilkinson said. "These are two teams we could potentially meet in the playoffs. We are mindful of each other health-wise but we are going to go out to play to win and try to keep up the momentum we have built.
"We aren't worried so much about playoffs. We are worried about managing things right now so we play these games competitively and go in with the right form, right frame of mind for whatever comes after that."
The Breakers haven't played in Townsville this season but beat them twice in Auckland and beat Gold Coast both home and away.
- APNZ