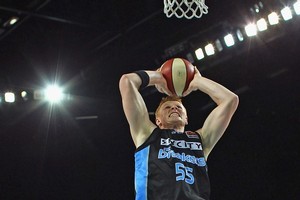 Tonight's clash between the New Zealand Breakers and the Sydney Kings at Auckland's Vector Arena is officially sold-out.
Breakers management put up the sold-out sign for tonight's game this afternoon with all 7,979 tickets snapped up, ensuring a fourth consecutive sell-out for New Zealand.
The sell-out is the Breakers first-ever at Vector Arena and will establish a club record for a home basketball crowd.
The game is also guaranteed of establishing a new national record as the biggest crowd ever to watch a basketball game in New Zealand.
Before the Sydney Kings attracted 7,532 people to their home game against the Perth Wildcats last round, the Breakers had previously held the season-high attendance record of 6,383 for their clash against Sydney on 28 October last year at Vector Arena.
Tonight's crowd will be the largest seen in the iiNet NBL Championship since 9,535 people flocked to the Sydney Entertainment Centre on 1 April 2011 to watch the Kings take on the Gold Coast Blaze.
The sell-out is a stunning endorsement of the Breakers' decision to take three of their regular season games this season to Vector Arena, instead of holding them at their normal venue at North Shore Arena.
Prior to the current round, the Breakers have been enjoying a massive 32 per cent growth in their attendance figures for home games this season.
Tonight's game against Sydney tips-off at 7:30pm.
- HERALD ONLINE