Cold War-scarred Berlin is serious about having fun, writes Paul Davies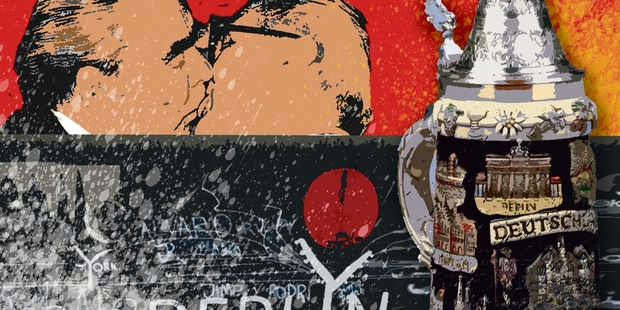 Poor but sexy - you can't argue with Berlin's unofficial slogan. Although it doesn't possess the wealth of other German cities, it has sultry charms.
The lack of investment and Cold War remnants simply add to its appeal - it's surreal to see what's left of the Berlin Wall jutting out of the cityscape after cocktails at a beach bar on the banks of the River Spree.
Europe's home of artists, musos and creatives has an extensive and eclectic selection of watering holes for the warm-up, after-party or main event. Contemporary spots such as Bar 3 and CSA Bar contrast with rickety Berlin establishments Bei Schlawinchen and Das Hotel.
Whether you want the tourist experience of the central borough Mitte, an afternoon in a Tempelhof beer garden or an edgy evening in a former Soviet-controlled suburb, there's something for everyone.
Kreuzberg, or "little Istanbul", is where some of the city's nicest little bars pop up alongside Turkish restaurants as the area gentrifies. Luzia is a typical Berlin bar: an industrial setting with attention to detail.
Lighting, layout and carefully chosen props lift these places out of their dark past, providing a comfortable, care-free location for a night out. It's a popular local bar, and stopping by can be hectic if its not timed right. But with guest DJs, cocktails and lagers on tap, getting among the bustling crowd on a Saturday night may just be what you're after.
With Bavarian big bottles for 2.50 ($4) - Augustiner is a favourite - in a jovial and minimal setting, der Kapitan is a great location for some serious drinking. Staff float about as if it's their party, too, which it is - patience is often needed for service. Like many Berlin bars, their foosball table attracts a lot of attention but a word of warning: locals are extremely good.
Pictures of old steam ships and huge mountain-to-sea landscapes dominate the walls, while young hipsters banter on wooden furniture more suitable for a school than a bar. A popular place to kick things off.
An honour system for how much you drink? It's a great concept, if it's respected. This wine bar which embodies Berlin's liberal attitude sits north of the river in Prenzlauer Berg. For 2 you get a glass for tastings and can pour yourself samples from the half a dozen or so European varieties on offer. In theory, you pay what you want - though social norms suggest about 2 per glass is fair. After this introduction, you would be wise to grab a bottle from their extensive selection and sink into the 1970s living-room decor to discuss your favourite winemaking region.
This sits above Berghain, the infamous nightclub that has been voted the best in the world. Though it is more of a club than a bar, it's inclusion here is a nod to Berlin's incredible scene. To get there you must first negotiate Berghain's bouncers - a potentially humbling experience. If you survive, a spectacle awaits: a sea of flamboyant bodies gyrate to techno and electronica played by Europe's most popular DJs. Panorama plays mainly house and disco, serving as respite from the more imposing styles shaking the ground floor of the old Berlin power station. Huge window shutters destroy circadian rhythms, keeping people dancing until late the next day. An occasional opening of the blinds reveal shards of light that evoke gasps from jaded creatures more accustomed to darkness. Pace yourself.
Tier (Weserstasse 42, 12045 Berlin)
Brown suede couches, an analogue sound system and pictures of Marlon Brando adorning the wall give this Neukolln spot a suave, retro lounge feel. A chalkboard boasted music by a band named The Hoff, but while I was there staff played soul and jazz records. They have a comprehensive cocktail list and friendly bartenders who you can entrust with your drink selection. I was concocted a Duke: a delicious Woodford Reserve cocktail with elderflower and a floating walnut. I told Roman, a barman who went to school in Marlborough after his parents chose Blenheim over Berlin, that this was my pick of the bars I'd been to so far. He recommended Buck and Breck, a new joint where they create drinks to match your palate. He also revealed that the chalkboard was referring to the actual Hoff - David Hasselhoff was in town to protest the destruction of the Berlin Wall, and he had enough time to drop by for an acoustic set. Perhaps Tier is his favourite Berlin bar, too.