Moreton Island's many activities include four wheel tours, quad biking, snorkelling the wrecks, segway tours, parasailing, bay boating tours, helicopter flights - and wild dolphin feeding.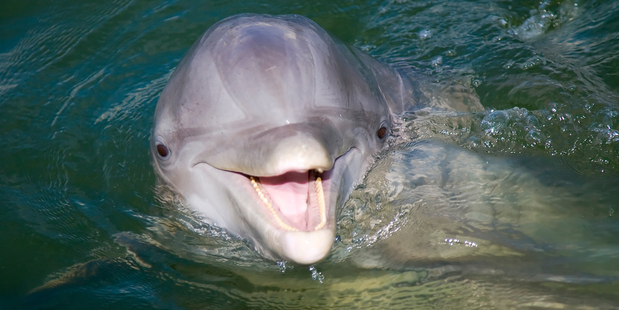 The grandmother winces as the boat rocks.
She's 66, dressed in a life jacket and completely terrified.
A Chinese woman and her grandson sit across from us.
We're all in life jackets and spooked.
The boat engine slows and the vessel gently drifts in the bay.
"It's time,'' the captain tell us.
The grandmother slowly rises and walks to the stern.
Her reflective sunglasses mask her fear.
She's trembling.
A deck hand clips her in and the boat begins to speed up.
A huge, multicoloured parachute opens out behind her and she flies up into the sky.
Higher and higher she goes, legs pumping with exhilaration, into the heavens.
It's her first time parasailing.
I've been to Moreton Island, off Brisbane, twice before.
But only ever as a day-tripper, never as a guest of the Tangalooma Wild Dolphin Resort.
It's the only stop on our four-day P&O cruise and we couldn't have picked better weather.
We're brimming with excitement as our tender boat glides across the sparkling bay to the white sand beaches of our very own Bali Ha'i, its treasures and pleasures waiting to be discovered.
Along with parasailing, we're booked for snorkelling, quad bike riding and dolphin feeding.
Shortly after the grandma comes down, it's our turn.
My partner and I are up in the sky on a lofty tandem parasail.
Wild turtles and dugongs frolic in the turquoise waters below.
Later we snorkel through the twisted iron wrecks near Tangalooma.
Corals hug the old ships and hundreds of fish with stipes, spots and shiny scales move in rhythm with my strokes.
A lonely wobbegong shark limps through the cobalt blue depths.
In the afternoon we tear through the sand dunes above the resort on our quad bike tour.
Riding in line behind beginners is frustrating as they keep spluttering to a halt. But it's still a lot of fun riding along the tracks in the dunes and looking out over the bay below.
There's still plenty of time to soak up the sunset lying on the beach or to enjoy a quiet cider at the open-air bar as a soft trade wind blows through.
When the moon rises we walk into the water for our final special tour; feeding wild dolphins.
I've thought of them as intelligent and friendly creatures that would love a good pat.
But there's no touching allowed here, these dolphins aren't somebody's pets - they're completely wild.
The dolphin I feed, named Tinkerbell, has two small calves, which are frolicking in the shallows.
She snatches a small fish out of my hand.
There's no appreciation or affection, just a quick meal for the porpoise.
A wild animal in a state of nature.
A small wave washes Tinkerbell against my leg and I feel her smooth, slippery grey body.
It's only momentary, but something quiet special.
It's hard to top that.
IF YOU GO
GETTING THERE: Tangalooma Wild Dolphin Resort is a stop on P&O Cruises Moreton Island escape or can be reached by ferry from Brisbane port.
STAYING THERE: Accommodation options include resort suites, beachfront villas, luxury apartments, units, hotel rooms and full holiday houses.
- AAP

Getting There
Fly there with Air New Zealand Book now
Find out more at Australia.com