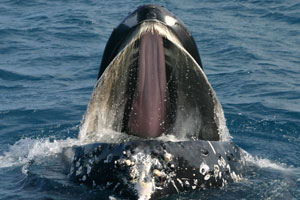 Away on the horizon a humpback whale was waving its huge tail in the air in what looked like a signal of friendly greeting.
Our Hervey Bay Whale Watch trip was nearly over, but skipper Jason said we could afford a few minutes for a quick last look at this giant, so off the catamaran sped in the direction of the tail.
Just before we got to where it was waving the whale dived so, sadly, we turned for Urangan Boat Harbour. And, a few minutes later, the tail re-appeared - this time obviously waving in a gesture of farewell.
I've seen quite a few humpbacks over the years - at Kaikoura, Antarctica, Tonga, Western Australia and Galapagos - but the ones at Hervey Bay seem more playful than those elsewhere.
It wasn't just the merry joke of waving us over, hiding, then waving farewell.
All the humpbacks there seem to spend most of their time fooling around and having fun with the watching humans.
On our trip, for instance, you couldn't help thinking the whales were looking at us as much as we were looking at them.
At one stage a mother - with a bull in attendance - quite clearly brought her calf over for a squiz at us and Quick Cat II.
Because the youngster couldn't dive for long the three of them basically frolicked round the boat for about half an hour with much blowing of spouts, rolling over to flash their white bellies and slapping of huge tails.
Finally the youngster - with the adults hovering protectively nearby - plucked up the courage to swim just behind the boat so it could eyeball the humans lining the rails a few metres away.
"There you are folks," said Jason. "That's as close as you're ever likely to get to a baby that will grow up to weigh 36,000kg."
Then there was the big bull who just lay on his back and waved his vast 5m long black and white pectoral fins in the air.
When we first saw him he was waving his flippers to entertain the watchers on another boat. While we watched he carried on lazily waving to and fro, sometimes just one, other times bringing the two up together to form a giant arch. When we left he was waving still.
Or there were the two whales who seemed to be engaging in a tail-slapping contest.
First one would smash the water with his mighty fluke, sending up a great fountain of spray; then the other would follow suit, creating an even bigger fountain.
This carried on for several minutes, churning the sea into a great froth, until as suddenly as they had begun the two whales stopped splashing, raised their tails high into the air and dived.
Probably the most spectacular stunt the hunchbacks perform is when they breach, throwing two-thirds of their enormous bodies out of the water, only to fall back with a thunderous splash.
On this particular trip we only saw a single breach close-up but at one stage, off in the distance, we saw a lone whale breaching continuously, a dozen or more times, before finally going under for a rest.
Of course not all the whales out in Hervey Bay are sociable. The first mother and calf we stopped to observe quickly dived into the privacy of the ocean. "Don't want to know us today, eh?" said Jason. "That's fine. We'll leave them alone."
But most seemed only too pleased to have an audience.
Hervey Bay Whale Watch proprietor Brian Perry, who pioneered whale watching trips here back in 1987, reckons the level of interaction between whales and humans is something that has grown over the years.
Partly that is the result of the growth of the local whale population. "We never saw any calves until 1989 and then there was only one sighted for the whole season. This year we've had maybe 500-600 calves."
But, more importantly, the whales have grown more confident about being close to humans.
"Back in the 80s and early 90s," Perry said, "if a mum had a calf she would always be between the boat and the calf trying to steer it away. We formed the opinion that the mums could still remember that it wasn't that long ago that they were being hunted by boats that looked the same as ours.
"As the years went by it became obvious that the whales were getting used to boats approaching them. They seemed to lose their fear and would become quite interested in us. Mothers would even push their newborn calves towards us like a mother showing off her baby."
Perry thinks this is because the humpbacks in Hervey Bay don't just pass through in the course of their annual migration but tend to hang around in the bay for anything from a few days to three weeks.
"Over that time they become very aware of us, to the point where it seems they are waiting for us to turn up every morning, and you get them swimming within inches of our vessels for hours on end which just doesn't happen elsewhere.
"We have been around the world watching whales and, while every place has something special, Hervey Bay is unique in the interaction between humans and the whales."
CHECKLIST
Getting there: Air New Zealand has regular flights to Brisbane.
From Brisbane you can get to Hervey Bay's Urangan Boat Harbour by train, plane, bus or rental car (numerous companies operate from Brisbane Airport).
Where to stay: Kingfisher Bay Resort is on the web at or you can contact Go Holidays on 0800 46 46 46.
Whale watching: Hervey Bay Whale Watch is on the web.
Further information: For more about visiting Queensland see queenslandholidays.com.au.
Jim Eagles went whale watching as guest of Hervey Bay Whale Watch, Kingfisher Bay Resort, Air NZ and Tourism Queensland.