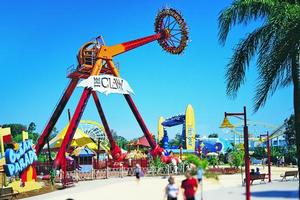 Every year, 200,000 trips are made from New Zealand to the Gold Coast by Kiwis. But that's not to say everyone knows where to go and what to do. Us for instance.
As Gold Coast virgins, booking a holiday was a learning curve and a half. We had to decide if we should fly to Brisbane or Gold Coast (Coolangatta) airport? Where was the best location to be based? And how did we go about booking theme park tickets?
Booking flights was the easy part. There are some phenomenally cheap deals to Brisbane and Coolangatta airports and we bought Jetstar tickets to the latter.
Choosing accommodation wasn't so easy. High-rise or cramped apartments aren't our thing. The child-friendly resorts suggested by travel agents were either expensive or lacked cooking facilities.
Some lateral thinking solved the problem. Had we been holidaying in New Zealand, a holiday park would be our best option. And we soon found we were spoilt for choice on the Gold Coast for similar accommodation - settling on Treasure Island, rated the number two holiday park in Australia by Holidays with Kids magazine.
That's because it's more resort than holiday park. Our air-conditioned villa was a haven from the heat and the children could roam the resort's facilities, which ranged from giant outdoor chess to a bouncing pillow, games arcade and mini-golf course.
The kids even booked themselves into some of the daily kids' club activities whilst Mum nipped backed to her room to take advantage of the park's WiFi internet access and relaxed beside one of Treasure Island's three pools.
But largely we were away from our base, doing what Gold Coast travellers do - lying on the beach and visiting theme parks. We'd bought an "endless summer" pass to Movie World and Sea World - doing two days at each.
Tips for travellers
Many travellers opt for a package for their first visit to the Gold Coast. But it's not hard to book flights and accommodation yourself - and it's often cheaper.
When to go: If you can avoid the school holidays, you'll get better deals and queue less. Details of Australian holidays can be found on Australia.gov.au. Also to be avoided is Queensland "Schoolies Week" from November 20 to 27, 2011, where thousands of school-leavers spend days on end drinking and partying.
Flights: It's generally cheaper to book online. Brisbane airport is further from the Gold Coast as the crow flies. But the train leaves the airport and goes all the way down to Robina - then it's just a short hop on a bus or taxi to your accommodation. You can also book a door-to-door rail/shuttle transfer through Airtrain.com.au.
Where to stay: Acquaint yourself with the geography before booking. If you want to be in the thick of things, find somewhere in Surfers Paradise or Broadbeach. Southport and Labrador to the north face the Broadwater, where there is safer swimming for children. Further south towards Coolangatta is Burleigh Heads, which has a national park for pleasant day walks.
Getting around: With plenty of time up our sleeves, we opted for public buses. From Treasure Island, one bus travelled direct to Sea World, but we needed to catch connections to Movie World (or Wet 'n' Wild, and Dreamworld, which are in the same location). From Surfers Paradise and surrounding beaches, there are Express public buses direct to the theme parks - Numbered TX1-5. Also very popular is the Gold Coast Tourist Shuttle, which offers airport transfers and buses to the theme parks for a one-off weekly charge. See goshuttle.com.au. Shopping: I'd personally rather eat pigs' testicles than go shopping on holiday. But we did pass through the shopping malls to pick up essentials. The biggest shopping malls are Pacific Fair in Broadbeach and Australia Fair in Southport. Almost next door to Treasure Island is the Harbour Town outlet mall, and there are malls in Robina and Helensvale.
Theme park tickets: It's a bit of a fallacy that only travel agents have the best deals. It's also worth considering whether the packages that offer "free" tickets to the theme parks simply have this cost loaded into the holiday price. We booked tickets online through MyFun.com.au. Other good deals were available at the reception desk at our accommodation.
Accommodation: Treasure Island and other holiday parks can be booked directly, or via Wotif.com and other accommodation sites. If you want an apartment, look for deals where you get seven nights for the price of five or 10 for the price of seven.
Eating: The Gold Coast has plenty of good family eateries, many offering cost-effective "meal deals". The Sushi Train chain has great sushi and is fun for kids. Many surf clubs have restaurants, such as the Northcliffe Surf Club at the southern end of Surfers Paradise beach. Also good for kids is the Southport Sharks sports club, which has a play area with climbing wall - kids dine free on Monday nights.
CHECKLIST
Further information: Pandanus Villa is offering a special deal for Herald readers of AUS$160 (NZ$202) per night for a family of four. Bookings must be made by January 31, for a minimum stay of three consecutive nights, between February 1 and March 31, and are subject to availability. Ring 00617 5500 8666 and quote TI 10.
See NRMA Holiday Parks. For information about the Gold Coast, see verygoldcoast.com.au.
NRMA Holiday Parks assisted towards the cost of Diana Clement's accommodation.