As Auckland merges to create a supercity, the Herald looks back at how Auckland has changed over the years. Click here to view the full series.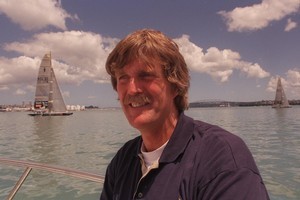 His was a childhood encircled by boundless sea.
He had grown up in a Bayswater bungalow on the edge of the Waitemata Harbour, and spent his holidays camping next door to his grandparents' beach-side house at Mairangi Bay, or sailing with his family on one of their cruising boats.
At age seven, he helped his father build a P-Class, a pugnosed wooden dinghy in which he learned to sail. So far, so like many other Auckland kids.
Sir Peter Blake's upbringing on and around the sea was not unusual but his enthusiasm quickly swelled from Auckland's sheltered waters to the
vast oceans beyond.
Ocean sailing made him a victorious and inspiring leader, qualities he brought closer to shore for the America's Cup and finally on-shore to construct Auckland's waterfront showpiece, the Viaduct.
His round-the-world races pulled thousands of Aucklanders out to line cliff tops or greet him from the water as he sailed into his home port. He had a calm, clear-eyed presence that inspired the confidence of corporate sponsors and sailing crew.
He aimed high and challenged others to come with him. If the task was not hard, he told them, it would not be worth doing.
When he brought the Cup to Auckland he was determined that it had to defended from a downtown yacht harbour. He ignored the prevailing wisdom
that public money should not pick winners and his advocacy ensured
the Auckland City Council turned an old fishing dock, known as the
Lighter Basin, into a world-class sailing village.
Murdered by Amazon pirates in 2001, Blake's life continues to inspire Auckland's yachting and wider identity. The City of Sails contains over 80,000 privately owned boats - one for every 15 Aucklanders.
There are 50 yacht clubs, from Omaha in the north to Clarke's Beach at the southern end of the Manukau Harbour, with more than 17,000 members.
They sail craft of all sizes and vintages, from 100-year-old kauri classics, like Rainbow and Rawene, to ultramodern carbon creations; from pint-sized Opti dinghies and sailboards, to high-flying multihulls and multimillion-dollar maxis the calibre of Alfa Romeo II. Others come to visit - every summer, immense superyachts cruise in from all corners of the globe to sightsee, smarten up and sometimes race.
Blake's first boat, Pee Bee, was the P-Class, Harry Highet's famous
design, but today the class wrestles for popularity with the Optimist when it comes to giving kids their first taste of singlehanded sailing.
Blake graduated to a "Zeddie" called Tango - the twohanded Z-Class dinghy was the major training boat for teenagers through the 1950s, but died out in the 1970s. Today's young sailors move into a Splash, Starling or Laser Radial, or the double-handed 420s and 29ers.
After years of sailing with his family on their 34ft Woollacott ketch, Ladybird, Blake built his own keelboat, a 23ft (7m) Van der Stadt design in the Bayswater backyard.
It was a rite of passage for many young Kiwi sailors to build their own craft, and even Blake had to learn the hard way - ruining his mum's garden when a bathtub full of molten lead split.
It was on the keelboat Bandit that Blake discovered his love of offshore sailing. He was winning with one of the smallest boats in the fleet.
Soon he was invited to crew on bigger yachts in bigger events like One Ton Cup races - the ultimate in round-the-buoy racing for Kiwis at that time.
New Zealand had a fine history in these regattas, which began when Aucklander Chris Bouzaid mortgaged his house to build Rainbow II and win the 1969 One Ton Cup off Germany on the day of the first moon landing.
The event was held in Auckland in 1977. That same year the city was, for the first time, a stopover port in the Whitbread round-the-world race, the supreme test of bluewater seamanship.
Blake was a watch captain on Heath's Condor which headed the fleet into his home port.
But it wasn't until the next race, in 1981-82, when he skippered the Bruce Farr-designed sloop Ceramco New Zealand, that Aucklanders truly fell in love with the round-the-world race.
Hundreds of boats filled the Waitemata Harbour to welcome the big boats from Cape Town - even at 1.30am to greet Outward Bound, the classic Kiwi-DIY boat built by Digby Taylor in his Auckland backyard.
When the fleet left on the next leg to South America thousands of people lined the headlands along the waterfront and North Shore in farewell.
It became an Auckland tradition.
The city's greetings and send-offs for sailors were like no other. In the ensuing years, there was a fair chance there would be a Kiwi sailor aboard almost every boat in the fleet (189 have competed to date), and a boat with a New Zealander at the helm would be leading the race "home".
In the 1989-90 race, it was Blake's Steinlager II that inched across the line first, ahead of Grant Dalton's Fisher & Paykel, after getting a heads-up on a squall from an Auckland radio station's weather report.
In 1993-94, Dalton's maxi NZ Endeavour triumphed in a 4am finish-line duel with another Auckland sailing legend, Chris Dickson, on board the 64ft Tokio.
After a decade's absence the round-the-world event, now known as the Volvo Ocean Race, is returning to Auckland in summer 2011-12 for the eighth time, and will tie up in the lively Viaduct Harbour.
When Team New Zealand, with Sir Russell Coutts at the wheel, won the America's Cup in far-off San Diego the Viaduct had been packed with revellers.
At that time, 1995, the basin had little more than the odd pub and
a string of dilapidated fishing boats, though deep-drafted yachts would sometimes call there.
Blake envisaged a village where not just the defender, Team New Zealand, but all the challengers could be based, and all of Auckland and beyond could come to visit.
It came to fruition through force of personality, diplomatic persuasion and determination.
Blake, as Sir Tom Clark described him, was a "shaggy-haired sheepdog, barking and snapping at their heels" to build syndicate headquarters flanked by glittering apartments and cafes.
The first America's Cup defence of 1999-2000, was an unqualified success on and off the water; Team New Zealand retained the Auld Mug with a 5-0 conquest of Italians Prada after a regatta that brought fair and friendly competition between 11 teams from seven nations.
Three years later, the New Zealand defence was hamstrung by defections and a lack of direction. The Cup went to Switzerland and the Viaduct changed face again.
Today, only one boatshed still stands along "Syndicate Row" - the home base of Emirates Team New Zealand who are preparing for another shot at the America's Cup and the Volvo Ocean Race.
But the area is still busy with boats, home to the Auckland International Boat Show and the Louis Vuitton Trophy regatta, giving new incentive to America's Cup crews.
The New Zealand Maritime Museum has made its home in the basin, and devoted a huge chunk of his exhibition hall to honour Blake.
Outside, on the Waitemata, keelboats cross masts in weekly rum races and class regattas.
Races held after work on weekdays have taken precedence over weekend sailing at clubs like Richmond, Ponsonby and the queen of Auckland's yacht clubs, the Royal New Zealand Yacht Squadron.
The squadron's youth training programme continues to turn out winners like Adam Minoprio and his world champion matchracing team, BlackMatch, and more and more kids are getting a taste of the ocean through programmes like Waterwise and Sailing Have A Go. Sir Peter would be proud.
Suzanne McFadden is an Auckland writer.