As Auckland merges to create a supercity, the Herald looks back at how Auckland has changed over the years. Click here to view the full series.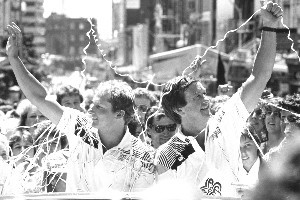 On a winter Monday, July 16, in 1984, two men caught a fateful flight from Wellington to Auckland. One was the Secretary of the Treasury, the other, Governor of the Reserve Bank.
They were anxious to talk quietly to David Lange, who was still in his Mangere electorate savouring his victory in the general election that
weekend.
The message they gave Lange and his likely Finance Minister, Roger Douglas, in a private lounge at Auckland airport that day set in train a
sequence of events that put the country on a course of convulsive change.
The country's foreign exchange reserves were haemorrhaging. The bank had sold as much of its foreign reserves in four weeks as it normally needed to sell in a year to maintain the exchange rate, at that time set by the Government. The officials urged devaluation.
None of this was publicly known until the following evening when the defeated Prime Minister, Sir Robert Muldoon went on television to argue that the run on the dollar could be stopped if he and Lange were to issue a joint rejection of devaluation.
Furious, Lange called a late night press conference to accuse Muldoon of defying his instruction and committing "economic sabotage".
Next morning, amid headlines of constitutional crisis, Muldoon complied and the dollar was devalued. But the night's drama left the country with a sense of crisis that prepared the way for rapid and drastic economic liberalisation.
Interest rates were freed, the dollar floated, farm subsidies abolished and just about all sectors exposed to competition.
Nowhere was the sense of commercial liberation felt more keenly than in Auckland, and nowhere were the consequences more evident. The city saw a decline in manufacturing and growth in finance and services. A market
ethos excited business.
The floating dollar, to the surprise of many, did not sink but soared. Foreign exchange dealing became glamorous. The sharemarket attracted novice smallholders.
A new breed of investment company - with names like Equiticorp, Judgecorp, Chase Corporation - were taking over solid old "lowly geared" firms in Auckland and looking offshore.
Investment bankers Fay Richwhite became the toast of the town - particularly when Michael Fay rose to the challenge of the America's Cup.
Australia had already done what had seemed impossible for 132 years, wresting the oldest and grandest sailing trophy from the New York Yacht Club. Australia had led the way in economic reform too. Labor there had floated its dollar and begun to free its markets a year before Lange and
Douglas.
When Alan Bond and John Bertrand lifted the America's Cup for the Perth Yacht Club in 1983 an Auckland sail designer, Tom Schnackenberg, shared the applause. It dawned on Auckland that its own yacht designers were producing highly competitive hulls in round-the-world events. Some of them had already outgrown Auckland.
Ron Holland was in Ireland, Bruce Farr in the United States. Laurie Davidson was still here.
Now the Everest of yachting was coming to Fremantle, Western Australia. Suddenly it was not so far away.
Holland, Davidson and Farr agreed to work together if a challenge could be organised. A newly defeated National minister, Aussie Malcolm, stepped up to lead a fund-raising effort.
Anything seemed possible in 1985. The country had a sense of direction, enjoying imports at low prices, developing better wine, driving newer cars. Auckland was getting interesting new buildings like Chase Plaza and the Fay Richwhite tower.

In April 1985 helmsman Chris Dickson won a Royal New Zealand Yacht Squadron match racing series to become the likely skipper for an America's Cup yacht already quietly in production.
By September Fay Richwhite were on board and Fay was leading a new management team with Tom Clark, Neville Crichton and RNZYS commodore Jack Alison. The following month the designers unveiled a 12-metre hull
made of glass-reinforced plastic, a world first. Until then America's
Cup boats were made of aluminium.
In January 1986 two identical hulls were shipped to Fremantle. Both were called New Zealand. They would be distinguished by their sail numbers" KZ3 and KZ5.
In February KZ5 won the first race in the world 12- metre championships
off Fremantle but Fay announced that a third fibreglass hull would be built, to be KZ7.
In July a replica was carried around the country to raise additional
finance for the campaign. A dinner at Auckland's Regent hotel raised $1 million.
KZ7 was shipped to Fremantle with a minimum of fanfare in August. Within days of hitting the water her backers were smiling and whispering of "something special".
On the first day of racing, KZ7 blitzed an American challenger from start to finish. Then it did the same to Italians, then to another
American entry, and so it continued. Long before it was due to race
the big American, Denis Conner, still smarting from losing the Cup, Conner challenged the legality of fibreglass. He wanted holes drilled in KZ7 to check its ends' weight.
That first race against Connor's Stars and Stripes was the only one
KZ7 dropped in the all the challenge rounds.
By November 14 the "plastic fantastic" had won 22 in a row and bookies were making KZ7 favourite for the Cup.
Back in Auckland summer was starting. The 'City of Sails' was pinching itself at the possibilities.
Land agents said values in East Coast Bays and the Hibiscus Coast were soaring in anticipation of a 1990 defence. Some coastal properties were going for as much as $500,000. Billy T James did an episode of his television show at the Fremantle base.
In December KZ7 featured on the front of Time. Weather buoys were put into the water around the Gulf to collect course data for a 1990 defence.
On January 13 KZ7 lined up against Stars and Stripes to finally decide which would be the challenger - and the bubble burst.
With additional last minute fund raising and design adjustments, Conner was faster by a minute and a half.
A "hotline" was hurriedly set up for fax messages of support but KZ7 could win only one race out of five. The summit of Everest was a step too far but it was now in sight. Preparations for another challenger began the day after the defeat.
The KZ7 summer was exciting and sobering for the economy too, it turned out. Later that year the sharemarket crashed with a vengeance that would leave a lasting distrust among small investors and slow the economy for several years.
The Lange-Douglas Government imploded, some of Auckland's corporate celebrities went bankrupt and one or two went to jail. Others, Fay Richwhite included, were embarrassed by a winebox of tax avoidance
schemes.
The America's Cup eluded New Zealand until 1995 when, by chance or not, the new economy was recovering too. Fay, Dickson and their team had raised Auckland's sights but it took an exceptional leader to reach sailing's summit and give the city a lasting legacy. His story is next.