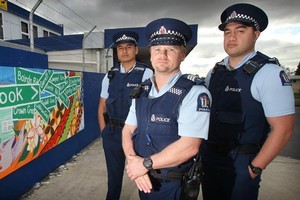 Reporter Andrew Laxon and photographer Greg Bowker follow a team of police finding alternative ways to curb crime in South Auckland's Otara triangle
Wednesday afternoon in Otara. At a small block of shops in a suburban back street, a couple of men haul cases of beer out of a car and into a liquor store crammed with wall-to-wall beer, spirits and pre-mixes.
Inside Sergeant Jonathan Milne tackles store owner Jack Kalkat about selling alcohol the week before to two young men on a 24-hour drinking spree. Milne saw them leave the shop, stagger drunkenly down the street past school children and rip off a street sign.
Kalkat insists it can't have been his staff. Maybe the boys got the alcohol somewhere else, he suggests.
No, says Milne firmly, they bought it here. He mentions the importance of breaches when the store's liquor licence comes up for review, chats briefly with the staff and leaves.
So why is the head of the local neighbourhood policing team, who describes his patch as "probably the toughest area of policing in New Zealand", putting so much effort into a bottle store? Because, says Milne, it's their job to attack the causes of crime and both police and the community are sick of the damage the Everitt Rd liquor store causes.
"We would see a mum pushing a pram - we've got photos of them - going in and buying boxes during the day and going out."
One Thursday night he watched a van unload boxes of bourbon and cola, filling the store to the ceiling.
"I remember being pretty passionate and saying, 'You guys are disgraceful. You're a negative influence on this area'."
Kalkat told the Weekend Herald his staff did their best to stop breaches, including underage drinking. "But sometimes [the kids] send someone else in. You can't stop that."
Milne doesn't agree. He says his team found a shed about 100m away from the store with 14 teenagers playing truant and drinking inside.
They recovered some bottles of pre-mixed spirits in a school bag and tracked down the boy who stole them - but that was just the tip of the iceberg.
"What our staff saw was another 20 empty boxes in that shed. So this was a bigger picture we needed to [look at] - and it all came from that liquor store."
Milne is a stocky, ginger-haired 46-year-old with a passion for his job. A former amateur boxer, he grew up in the gyms of Mangere in the era of Jimmy "Thunder" Peau and once ran an out-of-town adventure programme for South Auckland kids.
He spent four years as a frontline sergeant in Otara and ran youth and community services in the suburb. His wife is part-Maori but he admits that doesn't give him much street cred in an overwhelmingly Pacific area, compared with his Samoan colleagues Junior Te'o, Silao Nansen and Papa Talosaga (who has his own show on Samoan radio).
Milne and his team of six constables work in the so-called Otara triangle, which lies south of the shopping centre, bounded by the Southern Motorway, East Tamaki Rd and Preston Rd.
To the outsider, it looks like an ordinary collection of single and double-storey state houses from the 1960s, with more than the usual number of schools, churches and bottle stores. A line of pylons runs through the middle alongside Bairds Rd, Otara's main drag.
Until recently the neighbourhood had one of the worst crime rates in the country and it still has a tough reputation. Several serious criminals still live here and it frequently hosts violent ex-prisoners on parole for murder or armed robbery.
The police group started work last September when former district commander Mike Bush - now deputy police commissioner - set up the Ferguson Neighbourhood Policing Team (named after Ferguson Rd) as one of six in Counties-Manukau to tackle crime and improve public safety at a local level.
Police Minister Judith Collins is a big fan, and by the end of this year there will be 12 teams in the district and 18 in other crime-ridden areas around the country.
Milne says the idea works because it combines a strong relationship with the community with "the ability to get out and do stuff". The team respond to crime but they target what they see as important, and follow up with pro-active measures to prevent the same problems happening again.
Early on, Milne realised nothing would happen without community support, especially in Otara where the community has traditionally viewed the police with a mix of suspicion and downright hostility.
So he started with a door-knocking survey of 500 people, followed by meetings with community groups, schools, businesses and government departments. The clearest message was strong community resistance to the gang takeover of the Everitt Rd shops and a desire to "drive that liquor store out of town".
He decided that idea wouldn't work, as a new shop would simply replace it. So the team tried to work with the store instead, on a clean-up operation.
To Milne's surprise, Kalkat agreed to remove the giant liquor ads at the front of his shop and staff have begun reporting attempts by underage teens to buy alcohol.
Constable Aaron Singh and youth workers at Crosspower Ministries recruited a group of local teens to paint a mural over the tagging - Milne notes it has now lasted six months - and the council fixed up potholes and added an extra rubbish bin.
The physical environment around the shops is now much healthier, which he believes has a big effect on the whole community. But he still wants the liquor store to go beyond the letter of the law.
"If they know that even though they're selling alcohol to adults, [those adults] are then resupplying it to kids around the corner, we want them to go further and not sell it to the adults. When you're making quite a bit of money, that's a big change."
The team does a lot of relationship-building in the community - the sort of work traditionally associated with community constables and dismissed by cynics (including some in the police) as meaningless public relations.
They visit schools and play sport with the kids for an hour each week, chat to locals as they patrol the streets on foot and put families in trouble in touch with social services who can help them.
Milne says these relationships are vital but insists the job is not about "having cups of tea with old ladies". His team works evening shifts, so they can respond to burglaries and alcohol-fuelled fights which generally happen at night.
Last week, he says, they arrested an extremely active drug dealer, who was selling cannabis and class A drugs. They will carry on investigating the case to make the prosecution stick.
"We're not expert investigators and we're not solely community cops - we're a bit of a mongrel group that can be flexible. The advantage with it is it's still relationship-based, so while we're doing our apprehensions and our hard-nosed stuff, we still have a good relationship with both our criminals and our members of the public."
Yes, he says, the community consultation does extend to criminals. Team members have interviewed offenders informally as they bring them into the station and dropped in on current and former gang members to ask them what they want for themselves and their children. One senior gang member wanted to know how to deal with his disrespectful teenage son.
"Pretty well all of them would say; 'I hate the situation I'm in. I'm doing these things, I'm sort of trapped, I'd like something better'."
The strategy is paying off as families who used to attack the police when they came to make an arrest now work with them. Some former gang members ring in when there's trouble.
Milne says Otara is already much safer than it used to be. When he was on the beat the Tribesmen and Killer Beez gangs ruled the Otara triangle and you could feel the tension on the streets.
But in 2008 police smashed both gangs wide open with a six-month cannabis and methamphetamine sting operation that arrested 60 Killer Beez members and put many of the gang's leaders in jail.
With the help of an extra 300 officers which the Government promised for the overwhelmed Counties-Manukau district, police then got back on the streets.
Milne proudly mentions a regular car thief who told him he was giving up on the area because there were too many cops around and the way a vanload of kids waved at his team a few minutes earlier as they drove past the Everitt Rd shops - "that wouldn't have happened four years ago".
Otara-Papatoetoe local board member Poutoa Papali'i, who lives in Cobham Cres, in the middle of the triangle, agrees that Otara people have started to trust the police for the first time.
In the past, he says, some frontline police came into the area with a "boot the door down, bang, you're under arrest" mentality, which caused a lot of resentment.
Now the neighbourhood policing team has bridged the gap, says Papali'i, who works for Otara Health and is the Neighbourhood Support co-ordinator.
That makes it easier for the police to do their job and makes the community more willing to take responsibility for what's happening around them.
"If they see something wrong they'll report it now, whereas before ... who cares?"
TUESDAY LUNCHTIME, the day before. Computing student Victoria Tito, 19, and nursing student Sina Masan, 19, are walking along Cobham Cres.
Masan, who lives at the far end of Bairds Rd, says she and her family are fed up with stalkers coming through their backyards and knocking on their windows. They've told the police about it three times, she says, but they just say call back if it happens again.
"I've got three tinnie houses in my street and they don't do anything," says Tito, who lives in Ashton Ave on the other side of East Tamaki Rd. She thinks the police pull over people at random at the local Ferguson Rd shops because "they've got nothing better to do".
Peter Russo, 19, Drisco Manu, 16 and Phillip Vaenuku, 17, are on the other side of the street "patrolling the hood" in the blue colours of the local Crips gang. None are in work, training or school.
They say the police stop them for no reason except their gang affiliation. Russo, who admits police have caught him with drugs, claims it happens when he walks down the street getting groceries for his mother.
The mood is relaxed until the end of the conversation, when Russo asks for $20, warns me to be careful what I write and makes a show of photographing the licence plate of the Herald car on his mobile phone.
At the Otara police station the next day Milne, Te'o and Nansen listen to feedback from the street poll, half curious, half sceptical.
The tinnie house complaint is probably right, says Milne, as neighbourhood policing hasn't got to that area yet.
Te'o and Nansen know Russo well - he's a member of the Crown Crescent crew, which deals drugs in the neighbourhood. They provide some other background information and later point out where he lives. And by the way, they add, his first name isn't Peter.
The team don't agree with the harassment claims - sometimes people don't know the background, they say - but Milne accepts this is a long-term public relations battle they have to win, even with regular criminals.
"It's not going to help us to go and arrest them, fit them up, be dishonest with them, treat them unfairly and then put them away. They're still going to come back."
Milne thinks the new model is teaching police to tackle problems in different ways, sometimes against their normal instincts.
He remembers when one of the boys working on the Everitt Rd mural turned up with a brand new expensive bike, which was obviously stolen. He was tempted to wade in immediately, but instead had a quiet word to the boy's adult education tutor.
The bike was returned within an hour and the boy carried on helping on the project.
"For me it was a bit of a learning thing. A lot of cops at CIB will think we're soft ... but it's long-term relationships which reduce crime. I think these sort of things work."
Top 4
The biggest priorities identified by police and locals in the Ferguson Rd area of Otara - and how the neighbourhood team is responding.
1 Adult-approved truancy
Young people who regularly skip school commit about 90 per cent of repeat offending in the area. The team set out to tackle "condoned truancy" - parents and caregivers allowing or even making children miss school - by identifying the biggest five truants in each of the four local schools (Yendarra, Flatbush and East Tamaki Primary and Ferguson Intermediate). Officers then started turning up on the doorstep of the 20 families involved with local Manukau Truancy Services officer Pat Kake, who says that was sometimes enough to get children back to class. But it wasn't just "waving a big stick" he says - the police made follow-up visits to find out where families were having problems and to put them in touch with social services that could help.
2 Family violence
Each team member is responsible for one high-risk abusive family in the neighbourhood. The approach varies depending on the circumstances - sometimes a female officer will try to have a quiet word with a battered wife while her husband is at work. One case involved two teenage sons who threatened to beat their father with a hammer. When the pair ended up in court on armed robbery charges, the team intervened to make sure they were not bailed to their parents' address.
3 Gang intimidation
Gang members used to stand on the corner of the Everitt Rd shops (see main story), demanding money or alcohol from shoppers. The problem became especially bad when a gang member on a serious stabbing charge was bailed to a nearby house and his friends moved in, terrorising the neighbourhood. Milne says his team waited three weeks as they gathered evidence with CIB colleagues, then raided the house with search warrants. The alleged killer is now in custody on other serious offences.
4 Drunk and disorderly behaviour
Locals told the police they were fed up with young people getting drunk and fighting in public. The response includes tougher monitoring of the five liquor stores in the neighbourhood and keeping a close eye on trouble-makers.
Spot the difference
Like community constables, neighbourhood policing teams:
* Go into local schools and play sports with the children
* Walk the beat regularly and make a point of chatting to locals
Unlike community constables they also:
* Work evening shifts so they respond directly to crime in their area
* Investigate and arrest local criminals, including drug dealers