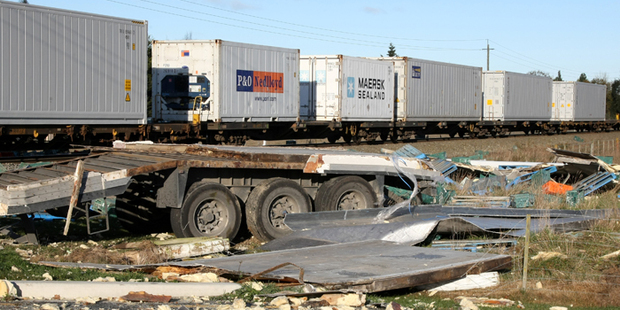 The truck driver who drove into the path of an oncoming train in May has claimed sun strike was the cause of the smash.
Keith Raymond Skinner pleaded guilty to careless driving, in the Ashburton District Court this morning in front of Justices' of the Peace Eric Weir and Steve Wise.
Skinner, driving an empty Verkerks truck and trailer unit, heading east crossed the uncontrolled Northpark Road railway crossing shortly after 9am on May 29 - unaware of the southbound train bearing down on him.
By the time he heard the train it was too late; it ploughed into the truck causing extensive damage to both the train engine and the semi-trailer unit. The force of the collision was so strong, it snapped the 12m trailer in two, leaving it buckled on the west side of the tracks while the truck sat on the east side, part of the trailer still attached. Neither driver was injured.
"I'm sorry,'' Skinner told the court.
"It wasn't on purpose - I couldn't see the train because of the sun strike.
"The first thing I knew about the train was when I heard it about two seconds before it hit me.''
Skinner was adjourned to undertake restorative justice and has until November 26 to complete the process, when he will return to court for sentencing.
The controversial crossing has already cost a life - David Nigel Dunham was killed there on March 22, 2002. At his inquest coroner, the late Laurence Cooney called for an urgent inquiry into the Northpark Road crossing, saying safety measures needed urgent consideration.
In addition crashes were recorded at the crossing in 1982 and 1990, and according to neighbours there have been many close calls. In 2002 Mr Cooney requested barrier arms and warning bells installed at the intersection.
Following collision in May, a Kiwirail spokesperson said the view of the approaching train would have been clear.
In July the Ashburton District Council took matters into its own hands removing the existing giveway sign, and replacing it with a compulsory stop sign. However, Kiwirail order its removal, saying it was planning to upgrade the North Park railway crossing before June next year with the installation of new flashing lights and bells.