Scrum under control, but throw-in very much a work in progress.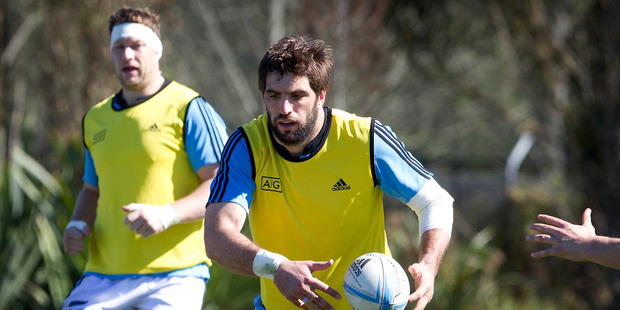 The scrum is a success story for the All Blacks so far in the Rugby Championship, but the lineout remains a work in progress, with Sam Whitelock admitting: "It hasn't been up to scratch."
The All Blacks lost three on their own throws to the Wallabies in Wellington a fortnight ago, and, although Ewen McKenzie's men lost five, the home pack will be looking for a big improvement against Argentina in Hamilton on Saturday night.
Asked how the troublesome set piece could be improved, Whitelock said: "The consistency right across the board. We have to make sure that the lift is perfect and that the jump is perfect which will allow our hooker to have that consistent area to throw to. If we can nail those three areas we should be fine and hopefully nail our own ball and then we can put pressure on their lineout too."
With Keven Mealamu playing for Auckland in the ITM Cup recently, all signs are pointing to Andrew Hore starting at Waikato Stadium. His ruggedness and breakdown work could be an asset against the big Pumas forwards.
Whitelock and Brodie Retallick will be the major ball winners for the All Blacks and their combinations with Hore will be crucial.
Both claimed six takes in Wellington, with Steven Luatua chiming in with one.
Whitelock believed the Wallabies were able to pressure the All Blacks in the first two Bledisloe Cup tests because of the defence strategy their tight forwards had developed while playing against the New Zealand teams in the Super rugby competition.
The Pumas' lineout was a different beast altogether, he said.
"Their lineout is probably a little bit different to what we see in Super rugby ... so we have to be prepared for everything."
While the All Black lineout hasn't quite been top-notch, it's a far cry from the shambles of 2009 when Springboks Victor Matfield and co ruled the roost and Steve Hansen and Graham Henry swapped jobs for a while. Since then the set piece has improved greatly. Whitelock, who made his test debut in 2010 and will win his 44th cap on Saturday, is considered one of the best leapers in the world and Retallick and Romano aren't far behind.
Although it will be a more competitive area on Saturday, Whitelock was confident his side had adjusted to the new engagement laws quicker than the Wallabies, Springboks and Pumas.
"The improvement from game one to game two for us, we got used to it and probably adjusted quicker than the other teams but in saying that everyone's had a week off [so they will have improved]."
- APNZ