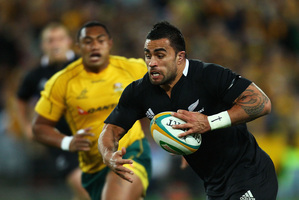 There was a moment during a game in South Africa in 1996, when we became the first All Black team to win a series there, that put me in mind of the pleasure of watching the 2012 All Blacks.
Then, like now, it wasn't just about the 15 guys who started the game. In the second test in 1996, the one which meant we'd clinched the series, we'd lost Andrew Mehrtens to injury. Simon Culhane came in and played really well - but went off in the second half when he was injured. Jon Preston came on.
He kicked one penalty, ice cool, as soon as he came on and we got another near halfway. Most of us thought this might be a bit too far for "JP" and Jeff Wilson came up.
"No, no," JP said. "No, I've got this. I'll do it." Jeff and I grinned at each other. JP did the business. The kick went over and it was hugely important. We won the match 33-26 and those two penalty goals gave us a cushion as the Boks came at us. They pulled up to 30-26 and one of Zinzan Brooke's famous drop goals sealed the match.
The moral of the story is all about a team made up of individuals striving to be the best they can; all focusing on doing their own job. That's what JP did. No one was going to take the ball off him; he wanted to do his job; it was inspirational.
As I have said many times, when those individuals concentrate on that, a team become accurate and efficient and put enormous pressure on the opponents. It can inspire an environment where some one (or some players) can pull something out of the hat to win a match - like JP's penalty and Zinnie's amazing drop goal.
That's what I am seeing in the 2012 All Blacks - not just a team striving to be the best they can be, but individuals really focusing on their job, whether it's Cory Jane and the aerial stuff or Aaron Smith clearing the ball or Keven Mealamu/Andrew Hore over the ball, or Ma'a Nonu, Conrad Smith, Luke Romano or Israel Dagg.
And what about Hosea Gear? He comes in and people wonder if he's the right selection and he plays his role perfectly.
Same with Liam Messam - what a hunger and attitude he is showing and his accuracy has improved out of sight as a result. Doing his job.
It was the same in '96. As captain, I never had to worry about people doing their jobs and that meant we could just zero in on winning.
But Richie McCaw and this All Black squad have taken things to a new level. They are basically not making mistakes - or very few - and that creates huge pressure on their foes. The Pumas could only stay with them for 60 minutes and look what they did to the Boks in the second half of the last test.
You can see the thought and preparation that has gone into it. I have no doubt the second test against Ireland was a learning process and they have responded to it.
There is now a lot of talk about them breaking the world record for consecutive test matches and they look hot favourites to me.
Steve Hansen and Richie have decided the World Cup is a distant memory and they are focusing on new goals; moving on. Striving for excellence.
The obvious comparison is with the 1987 World Cup-winning team and the way that, under Buck Shelford, we sought new goals by trying to play "the perfect game". We never quite managed it but it was a significant incentive. We got close to a world record too but fell foul of the Aussies in 1990 - the first time the All Blacks had lost a test since 1986, although we'd also had that 19-19 draw against the Wallabies in 1988.
These guys are trying to do something similar and, if they haven't yet produced the perfect performance, it may not be far away. They are certainly learning and putting the lessons into action. And did I say it was a joy to watch?