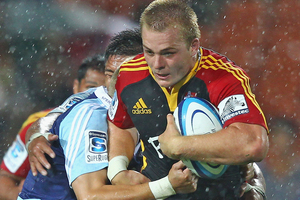 There they were, four good ol' Reporoa boys, back in town this week for a catch-up. There was Carl and Sam, DK and AJ, enjoying a couple of quiets, swapping yarns.
It's a scene played out every week in a hundred small towns around New Zealand. Mates who've been knocking around since barefoot rugby days, catching up as their lives start meandering down different courses.
The only thing out of the ordinary about this gathering of 20-year-olds was that one has the inside lane in the race for the most coveted jersey in New Zealand: Richie McCaw's black No 7.
Sam Cane's rapid ascension - he was this week named in Steve Hansen's 35-man train-on squad - has not caught everybody by surprise, especially those who make their living on the Reporoa caldera.
Steve Axtens, a former Counties and BoP lock is the aforementioned Carl's father. Carl and Sam have "been mates since they were about 2" and have played together at national age-group level and for Bay of Plenty.
"To be honest, from the time he was 5 I knew Sam had it," Axtens says. "I remember talking to people as he got older telling them to watch out for this kid.
"There might have been faster kids, or bigger kids, but he had a steely determination second to none. He would go until he was dead on his feet. You talk about good work ethic, he had that in spades. And Sam just loved playing rugby."
He is also a product of his surrounds, something Axtens believes that is almost as important as his talent. Cane's parents, Malcolm and Kathy, are deer farmers. Most of his good friends grew up on farms.
"The boys keep each other grounded," Axtens explains. "It's that rural environment. They look out for each other and when they get back to Reporoa, like they did [this week], they can leave all the hype and the palaver behind."
Reporoa - population approximately 2500, but who's counting - might be good for grounding, but eventually Cane's talent needed a bigger stage. He and Carl travelled north to Tauranga to complete their schooling and enter the BoP rugby academy.
The reason, says player development manager Dean Jennings, was that Hamilton Boys' High and a number of Auckland schools had started the enticement process. This was a way to keep them in the province and to make assimilation to the Biggish Smoke easier, they lived at the Jennings home.
"You'd describe him as an old-fashioned country boy," recalls Jennings. "Well-mannered, humble, works hard."
Jennings tries to drum into the talented youngsters that you cannot rely on the sport to give you a living. All listen, most ignore it. Cane took the advice to heart.
"He's been studying business management," Jennings says. "Last year when he was getting more and more busy with the ITM Cup he took it upon himself to enroll in night school to try to keep up."
There was a moment during the Chiefs week-two victory over the Blues that announced Cane as a player to take seriously.
And it was enough to get Blues' tongues wagging in the sheds after the game.
From a rock-solid scrum, Jerome Kaino, playing at No 8, peeled off the back and, with a head of steam, prepared to storm through the advantage line.
Jerome, meet Sam. He stopped him dead in his tracks. Kaino didn't make an inch. That's the sort of thing that matters to players, coaches and selectors - a 20-year-old greenhorn levelling one of the finest forwards of his generation.
Now he has been given the chance to train alongside the best.
If Jennings had occasion to talk to McCaw, he would warn him that Cane will spend next week's training camp acting like a sponge.
"He would live in his pocket if he could. If there's stuff he wants to know from Richie, he'll ask a million questions."
It's also time to add a cautionary note. Cane is not an All Black yet. Truth be told, he's only a fringe Chief. Cane will have watched the way a torn ACL halted Carl Axtens' development by a year and realised that anonymity is only a bad injury away.
He will have noted how fellow BoP and Chiefs flanker Tanerau Latimer has been tried and not quite measured up at the highest level, despite consistent excellence at lower levels. He would also know that players like Luke Braid, another BoP academy alumnus, and Matt Todd are not going to willingly cede him succession of the black No 7. Neither is McCaw for that matter. Nothing is guaranteed.
He will know all this because, say those who've known him longest, that's just the sort of fella he is.