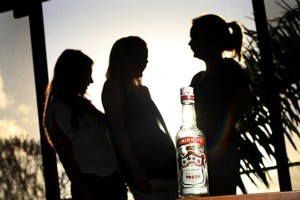 Children as young as nine are among hundreds of people under 16 being treated by specialist clinics for alcoholics and drug addicts in greater Auckland.
The number of children being treated by the region's Community Alcohol and Drug Services increased by nearly 20 per cent to 382 last year.
About half were treated for alcohol and the rest for cannabis and other drugs. A further 71 were treated at Waitemata District Health Board emergency departments for intoxication.
But CADS child and adolescent psychiatrist Dr Grant Christie, an addictions specialist, believes the problem is far worse than the figures suggest.
"The people who get to our service ... probably represent 5 per cent of the problem," he said.
"Especially with the younger ones - they are here because they got caught by parents, teachers or police and were referred to us. All their mates who didn't get caught, they were still drinking harmfully ... "
The Herald obtained the figures from the Waitemata health board under the Official Information Act.
The Auckland and Counties Manukau boards have not responded to requests for figures in their areas.
MPs are considering sweeping changes to liquor laws, including lifting the purchase age back to 20 at supermarkets and bottlestores - but leaving it at 18 for bars and clubs - and making it an offence to give alcohol to people aged under 18 without parental consent.
Labour MP Lianne Dalziel yesterday said the figures were "tragically" no surprise and showed the price New Zealand was paying for the "normalisation" of alcohol.
"We're treating alcohol as if it was a normal commodity and then acting surprised when children treat it as such."
Alcohol had become so intertwined with society that "every event seems to have alcohol at its heart" and it was being marketed to young people "at very low prices and usually in strategic places".
She said no-one liked to admit it but alcohol was the number one recreational drug for New Zealanders and would continue to be until there was a culture change.
Alcohol Healthwatch health promotion advisor Chris Rogan said the country had a crisis in young people drinking.
"It's going to happen when we have such a liberal attitude to alcohol ... There should be no surprise to anybody, it's been written in the evidence for an awful long time."
Ms Rogan said there were "a lot of families in a lot of pain".
She did not think the situation would change quickly unless something was done about the environment in which alcohol was sold and supplied, and people's attitudes toward it.
"There's a whole range of things that have to be done, not just telling people to change their behaviour."
She suspected the figures were "the very, very tiny tip of a very big iceberg" and represented people who had been proactive in getting help.
"It's sad and it's frightening and it is so preventable."
The early onset of drinking in many cases paved the way to heavy drinking in adulthood.
"Most of the evidence will show people who have an alcohol problem are the ones who started early."
Dr Christie said about half the 382 children treated by CADS had problems with alcohol, 40 per cent with cannabis and 5 to 10 per cent with other drugs, including methamphetamine, or solvent abuse.
Some had problems with alcohol and drugs.
He said it was common for children to be referred because of cannabis use, but to be found to have a greater problem with alcohol.
"What that tells us is that to some extent, the alcohol abuse is normalised in teenagers. They may be drinking very harmfully, however they don't see it that way - it's just what everyone does ..."
Recalling the death last year of 16-year-old Kings College pupil James Webster, from alcohol poisoning, Dr Christie said: "The surprising thing is that it doesn't happen more often. Kids are drinking like that all the time."
Waitemata and Waikato District Health Board figures also show that 10 children under 5 were treated for alcohol use over the last two years, including three infants aged between 1 and 2.
These cases are considered accidental poisoning and show the dangers of leaving alcohol within reach of children.
Among older children, four aged 11 and 15 aged 12 or 13 were treated for drunkenness last year.
Said Dr Christie: "From 11 up, what you are dealing with is not accidental poisoning, but probably kids who have found a beer or gin or whatever and got drunk intentionally or have been at a party. Others will be kids just drinking heavily."
- Additional reporting, Andrew Koubaridis