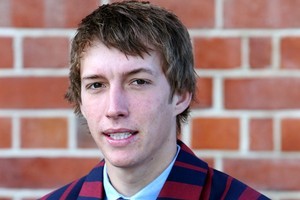 A teenager convicted of drink-driving has been retained as head prefect by his school.
The outcome has stunned some parents, who described the decision by Hastings Boys' High School as appalling and sending a bad message to students.
The school's head prefect, Luke Kenneth Bradley, 17, pleaded guilty to charges of drink-driving and careless driving, after an incident on January 23 when he lost control of his car on Nicholl Rd, Twyford. After leaving the road his vehicle rolled and landed upside down in a stream.
He later returned a breath-alcohol level of 186mcg. The legal limit for drivers aged under 20 is 150mcg.
Bradley was convicted on both charges in the Hastings District Court on February 15. On the charge of careless driving he was convicted and discharged. He received a three-month disqualification for drink-driving.
His name appeared in Hawke's Bay Today's drink-driving "list of shame" last Saturday but his school has retained him as head prefect, saying he simply made one bad decision.
A parent at the school, who did not wish to be identified, described the school's stance as "appalling".
"Look what happened with the kids killed on that [Tutaekuri River] bridge in 2009... We have a moral obligation to protect our kids," he said.
"This was a great chance for the school to set a standard, yet instead they tried to hide the incident.
"This isn't about Luke, it's about why the school made a decision that no one can understand."
Another parent criticised the school's "inaction".
"What message is this sending to our boys by letting him continue as head boy of the school?"
Hastings Boys' High principal Rob Sturch said his head boy previously held an "unblemished" record.
"Many people won't know how out of character this is for him," Mr Sturch said.
"He's made 2000 right decisions and one bad one."
Bradley had earlier been "unanimously" voted as head boy, was an "outstanding leader", a top student and a great sportsman.
Mr Sturch said the school's attitude to drink-driving had not shifted.
The decision not to take Bradley's badge had come after "huge debate" by the board of trustees.
The teen's father, Allan Bradley, is a board of trustees member and his mother, Anthea Bradley, works as the school's office administrator, but Mr Sturch said neither had any bearing on the decision.
- APN