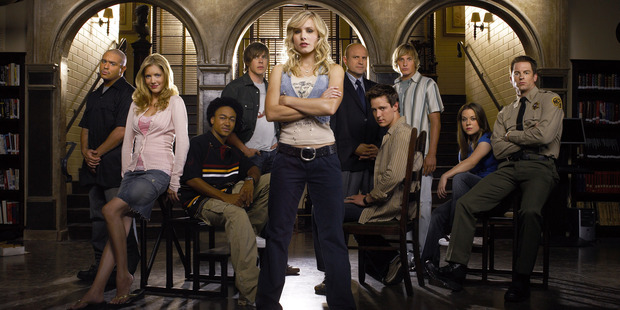 The recent crowd-sourcing success of the Veronica Mars and Zach Braff Kickstarter movie projects has opened the world of film funding up to an intriguing new level of scrutiny and debate.
It's also demonstrating how fan enthusiasm can directly translate into cash money, and with that in mind, allow me to call your attention a currently-running Kickstarter movie project that any movie fan worth their salt should be contributing to – Harbinger Down.

The sci-fi horror film is the brainchild of Alec Gillis and Tom Woodruff Jr, two titans of practical creature effects through their company Amalgamated Dynamics, Inc (ADI) which has credits on everything from Alien 3 to The Incredible Hulk to The Santa Clause.
As Gillis explains in the pitch video at the top of the Kickstarter page, the kind of practical creature effects ADI specialises in – as seen in films like 1989's Tremors (an ADI highpoint) and James Cameron's legendary Aliens (which Gillis and Woodruff worked on) – are increasingly out of favour in Hollywood thanks to the rise of Computer Generated Imagery.
Gillis and Woodruff aren't anti-CGI, they are simply big fans and high-profile proponents of the more tangible, practical approach, which still has a significant role to play in filmmaking, despite the best efforts of clueless studio heads.
It's disheartening to hear Gillis talk about how most of the practical effects ADI created for 2011's The Thing prequel were CGI-ed over by a panicky studio just before the film's release. Videos on ADI's endlessly fascinating YouTube channel show the discarded work to be much truer to practical effects master Rob Bottin's pioneering achievements in the 1982 original than what reached the screen in the 2011 film.
Gillis and Woodruff are positioning Harbinger Down as an old school creature-feature with all practical effects. Gillis is writing and directing the film (which sounds like The Thing on a boat, and I'm okay with that), and ADI are obviously doing all the creature work. As I write this, the Kickstarter is almost half way through, and they've only raised just over 25% of the $350,000 they are asking for.
So stop dawdling and pledge! I implore you! It often feels like New Zealand has a much denser movie-nerd per-capita rate than most Western countries – so lets all put our money where our mouths are!
$350,000 is way less than both the Veronica Mars and Zach Braff projects were asking for – I refuse to believe there aren't enough old school monster lovers in the world to fund Harbinger Down. Lance Henriksen is in it for freak's sake! They are also going to be employing old school miniatures and maybe even some stop-motion effects! This movie needs to happen, and it won't if we leave it up to the modern studio system.
Like Braff, I was excited by the massive success of the Veronica Mars Kickstarter project, which sought to make a follow-up movie to a beloved but low-rated cult show from the mid '00s. I loved Veronica Mars, and I can't wait to see the movie.
Braff was so inspired, he decided to employ the same method to partially fund his follow-up to 2004's Garden State, which he wrote, directed and starred in. There was considerable outcry from a wide range of internet denizens who thought Braff – who was famously well-paid on latter seasons of sitcom hit Scrubs – should fund his own movie. Where the Veronica Mars project received a mostly positive response, the hate flowed considerably for Braff's.
It was tempting to join in, but I realised that if I had no issue with the Veronica Mars Kickstarter, then I couldn't morally object to Braff's. The talent behind the Veronica Mars clearly benefitted from their underdog status with their campaign, but they too are Hollywood professionals just like Braff.
And like Braff, they couldn't find a satisfactory funding model through which to make their film, and the fans stepped up. There must be plenty of Garden State fans out there, as Braff's Kickstarter was a resounding success, financially at least, raising well over the asked-for two million dollars.
So while I have no moral objection to Braff's project, I still think anyone who contributed to it is a terrible human being, because seriously, have you seen the synopsis for the film? It sounds like a joke project that a fictional douche-bag actor character in a Judd Apatow film would star in. I would pay two million dollars NOT to see it.
But that's okay – I must allow for the possibility that the enthusiasm I feel for Veronica Mars and Harbinger Down is felt by certain individuals for Braff's touchy-feely-pukey type of drama. Nobody is wrong for liking something. I just hope I never encounter any of these doomed souls, for they are surely the worst people in the world.
Another recent Kickstarter movie project that hasn't received as much attention is one instigated by '90s sitcom star Melissa Joan Hart ( Clarissa Explains It All; Sabrina The Teenage Witch), which attempted to raise two million dollars but only got fifty thousand. This is kinda depressing, and I only wish the same fate had befallen Braff's movie.
But it effectively demonstrates the nature of these projects – if there's an audience willing to shell out the cash, why shouldn't a movie exist? The market spoke when it came to Darci's Walk of Shame (the would-be name of Hart's film, alas), just as it did for the other projects I've mentioned here.
There will always be arguments about how justified any filmmaker is to ask the public for money – but to me they are rendered somewhat irrelevant if there is an audience willing to stump-up.
So stump up for Harbinger Down! There are only two weeks left for them to raise the cash, and there are some great prizes for donating!
Everything about Harbinger Down speaks to my affection for the greats of '80s genre cinema. Gillis and Woodruff were at the centre of this fertile period for creature effects, and while they've done a lot to remain relevant in a digital world, the new film is clearly designed to harken back to this era.
But this isn't about railing against technological developments in filmmaking, it's about celebrating a dazzling craft that continues to grow, but is increasingly overlooked by short-minded studio decision-makers. ADI continue to inspire with their design and effects work – I just hope we get a chance to see their passion project.


Will you contribute to the Harbinger Down Kickstarter? Did you contribute to any of the others I've mentioned above? Why? Comment Below! Then PLEDGE!