After much discussion, cajoling, and remonstration, Air Chathams Wanganui captain Dominic Lock shook hands with his Manawatu counterpart Tim Richards yesterday to call off a soggy Furlong Cup fixture after over two hours of rain delay.
Set a declaration target of 258 to win before the final cloud burst, Wanganui were in no hurry to get back on the pitch with nothing to gain, after a golden chance to secure first innings points on a seamers wicket had just slipped through their fingers on Saturday.
A leak in the covers meant a puddle formed at the popping crease at the far end of the pitch, which Manawatu players then covered with sawdust.
Wanganui's English professional coach Charlie Hartley made the case with the officials, who were trying to get back on around 4.30pm, that conditions were too dangerous to bat as any half-decent seamer would have a perfect target to aim at.
The match was finally called at 5.17pm, and with the rain returning only 10 minutes later.
Wanganui had Manawatu struggling on Saturday as a solid four-pronged pace attack of Hartley, Ross Kinnerley (4-64), Akash Gill (2-8) and the returning Connor O'Leary (3-30) pitched it up and pinned the top order down, the visitors really struggling at 71-6.
Only a top hand like Dane Cleaver (35), just returned from New Zealand A duties, was able to work the ball around, before Black Cap Adam Milne (33), who thankfully for the home side was only playing as a batsman, put together a partnership with Navin Patel (45 not out).
Kinnerley broke that up with yet another edge into the slip cordon, where teenager Sam Sheriff showed an excellent pair of hands to claim four catches.
Yet Patel's innings proved priceless for the visitors, scoring his 45 off only 39 deliveries with four boundaries and a six, which included one big over off Hartley by attacking him down the ground, Patel aware he was about to run out of batting partners.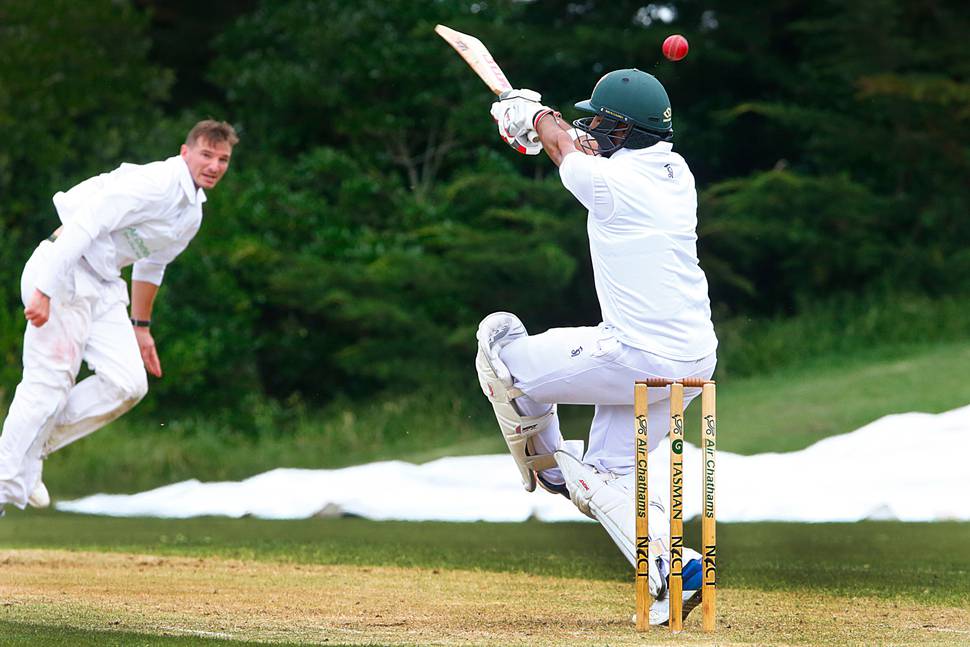 But on that pitch, a score now north of 150 could have been twice that for Wanganui, who do not have the same batting depth as they do in the field.
It started well enough as Sheriff confidently turned a Patel (2-29) delivery off his feet for a boundary, but that would be the last scoring shot for four overs as Manawatu packed a massive slip cordon and had Patel and the lethal Carlos Jensen (4-12) pitch it up.
Playing and missing, giving nicks that didn't carry, Sheriff and Thomas Walshe were under the pump and the pressure told after a risky single was undone by a direct hit on the stumps from Trent McGrath to see Sheriff walk off.
That set in the rot as Lock, Akhil Kumar and Akash Gill all made ducks from only 13 deliveries between them, while Hartley (40) rode the luck of one dropped slip catch to show that they had to try and go at the ball because the pitch was allowing zero reaction time.
Kinnerley and newcomer Kashish Nauhria (both 9) tried their best, facing a combined 57 balls, but it was the in-form John McIlraith (52) who took over when Hartley finally succumbed and had his team in sight of first innings points at 131-7, having struck eight boundaries and a six in 42 balls.
Just a few more good hits and some scrambling singles and Wanganui would have had the advantage, but Matt Borren finally ended McIlraith's cavalier innings and McGrath (2-3) came on to wrap up Nauhria and Chris Sharrock in the space of three overs.
While coming off early for rain, Manawatu were much more careful in their second innings as the pitch hardened up by early yesterday afternoon.
Mason Hughes (46) dug in at opener, and then Cleaver finally got to cut loose, scoring 83 from 77 balls with his team thinking about declaration.
Wanganui didn't make it easy, with O'Leary taking 2-37, but Milne continued his good form with an unbeaten 41 for Richards to call them in at 233-6.
Sheriff and Walshe survived nearly five overs without scoring as the rain came back with a few hours to go and set off the back-and-forth discussions about calling it a day.
"It was difficult, when you put it in those areas," Lock said about the Day 1 batting.
"It was moving around off the pitch.
The skipper was asked what Hartley and McIlraith did differently when no-one else reached double figures.
"They were just aggressive and played through the line.
"You either go for it or play it late.
"Johnny batted really well, Charlie made it look not as difficult."
Lock was happy enough with the third innings bowling, with conditions having improved before the weather packed in.
"We stuck to our plans, it didn't get away from us."
In the other Furlong Cup games, Taranaki didn't even make it down to Masterton as their fixture with Wairarapa was rained off, while Horowhenua Kapiti pulled the upset this round as they got first innings points over Hawke's Bay in another rain-affected match in Levin – bowling the visitors out for 206 when chasing a patiently compiled 290.
Scoreboard
Manawatu 1st Innings
W Na Nagara ct D Lock b R Kinnerley 9
M Hughes ct S Sheriff b C Hartley 0
T McGrath ct S Sheriff b A Gill 18
D Cleaver ct D Lock b C O'Leary 35
L McHardy ct S Sheriff b A Gill 0
B Small b C O'Leary 0
A Milne ct S Sheriff b R Kinnerley 33
T Richards b R Kinnerley 0
N Patel not out 45
M Borren ct D Lock b R Kinnerley 4
B Rowe b C O'Leary 5
Extras: 8
Total: 157 (46 overs)
Bowling: C Hartley 14-4-44-1; R Kinnerley 15-3-64-4; C O'Leary 8-1-30-3; A Gill 7-4-8-2; C Sharrock 2-0-11-0.
Wanganui 1st Innings
S Sheriff run out (T McGrath) 4
T Walshe lbw b C Jensen 4
D Lock ct D Cleaver b C Jensen 0
A Kumar ct D Cleaver b N Patel 0
C Hartley ct B Small b C Jensen 40
A Gill ct D Cleaver b C Jensen 0
R Kinnerley lbw b N Patel 9
J McIlraith ct L McHardy b M Borren 52
K Nauhria ct M Borren b T McGrath 9
C Sharrock st D Cleaver b T McGrath 1
J Clark not out 1
Extras: 13
Total: 133 (42.2 overs).
Bowling: N Patel 14-6-29-2; C Jensen 12-6-12-4; M Borren 7-1-39-1; T Richards 5-0-31-0; B Rowe 2-0-11-0; T McGrath 3-0-3-2.
Manawatu 2nd Innings
W Na Nagara ct S Sheriff b C Hartley 17
M Hughes lbw b C O'Leary 46
T McGrath ct A Kumar b R Kinnerley 12
D Cleaver ct R Kinnerley b A Gill 83
L McHardy ct S Sheriff b A Kumar 1
B Small ct R Kinnerley b C O'Leary 17
A Milne not out 41
T Richards not out 4
Extras: 12
Total: 233-6 declared (51 overs)
Bowling: C Hartley 8-2-21-1; R Kinnerley 12-0-76-1; A Gill 10-1-47-1; C O'Leary 10-0-37-2; A Kumar 7-1-27-1; J Clark 4-0-18-0.
Wanganui 2nd Innings
S Sheriff not out 0
T Walshe not out 0
Extras: 0
Total: 0-0 (4.5 overs).
Bowling: N Patel 2.5-2-0-0; C Jensen 2-2-0-0.
Result: Match Drawn, Manawatu win first innings points