They played deep into the night and under the rain but the competitors at the St John's Club Junior and Open tournaments were still able to decide their first champions on Sunday.
The four-day tournament began around 8.30am on Saturday with the Under 10 and Under 14 tournaments, as well and the new Open tournament for adult players and coaches who were in town guiding their proteges.
Games were still being played under lights at 9pm that evening.
"Sixty per cent of the matches needed to be played over that Saturday and Sunday, so it was quite hectic," said Wanganui Tennis Club spokesman Neville Hopkins.
Rain on Sunday afternoon disrupted play for a couple of hours on Sunday, with the back-up artificial grass options at the Whanganui High and Whanganui Intermediate schools being used with the club's Bassett St plexipave hard courts out of action.
It meant the doubles finals of the Under 14's boys tournament was still being decided yesterday, while the Under 12 and Under 16 tournaments were also getting underway.
Those finals will conclude this afternoon.
Whanganui locals have yet to feature in a championship final.
The big upset of the weekend was in the Under 14 girls final as top seed Nikayla Barnard of Taranaki, ranked 190th in New Zealand, was beaten 6-1 6-1 by third seed Sofia Shing of Wellington.
While the action was closer than the scoreline suggested, Shing got the crucial points in each game for the straight sets win.
She had beaten second seed Claire Brownlie of Lower Hutt in the semifinals 6-2 6-4, while Barnard accounted for Wellington's Anabelle Holder 6-3 6-3.
In the doubles final, Barnard and Brownlie combined to beat Brooke Morgan (Hutt Valley) and Ruby Pierre (Wellington 6-1 6-2.
In the Under 14 boys draw, top seed Henri Lyon lived up to his heavy favouritism, beating fellow Wellington competitor Zeno Varouhas-Poole 6-0 6-3 in the semifinals, then second seed Shane Colton (Wairarapa) in the final.
However, Lyon did not have it all his own way, beating Colton on a tiebreak 6-3 4-6 10-4.
Colton accounted for Wellington's Sam Baird in the other final 6-2 6-2.
In the smaller Under 10 boys singles, George Lyon followed his older brother and won the title in a round-robin format, with Wellington's Johnny Baird second.
Baird and Lyon were then the top doubles team, with Manawatu's Charlie Broadmore and Travis Christison coming second.
Top seed Ayla Giesen was the Under 10 girls champion, with Wellington's Zara Varouhas-Poole second, while Giesen teamed with Taranaki's Greer Upson to win the doubles title, ahead of Ava Doddridge and Varouhas-Poole.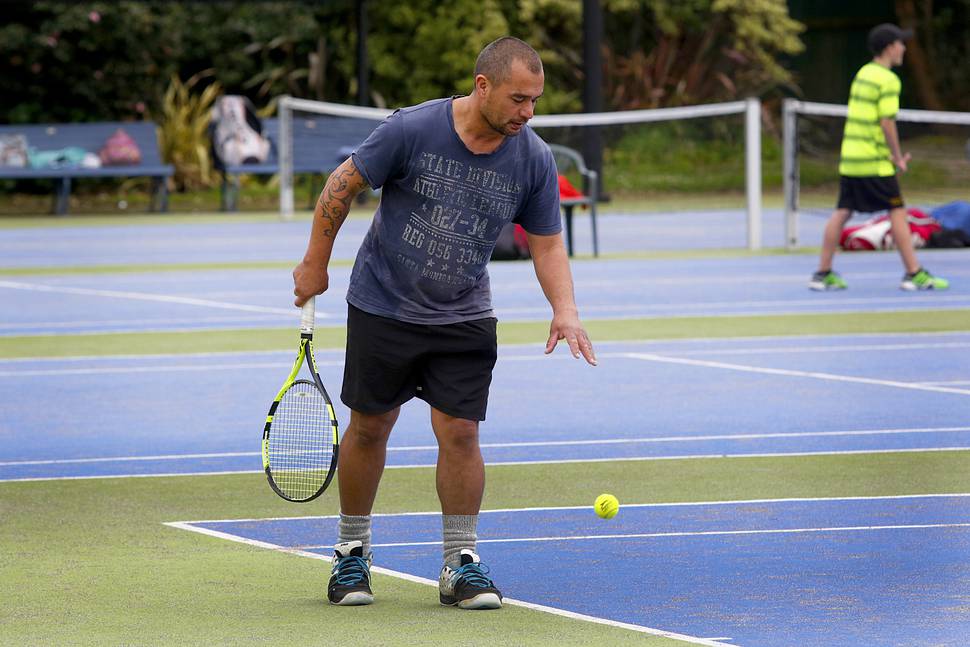 The Open competition saw an interesting Men's final as South African expat coach Jakim Malan played against 14-year-old Tom Bolton, both from Wellington.
Malan won the first set comfortably 6-1, but the teenager fought back to have the No1 seed 0-3 down and then 2-5 down, before Malan used his experience and mastery of the drop shot to win the final set.
Malan had beaten Hawke's Bay's Hamish Lee 6-2 6-3 in the semifinals, while Bolton accounted for Jim Lyon, father of the champion brothers, 6-3 7-5.
As expected in the doubles, Wellington's Jaden Grinter, a former world-ranked ITF Junior player, teamed with fellow Wellingtonian Michael McGlinchy to win the final against the Manawatu team of Scott Campbell and Michael Erb 6-3 6-0.
The smaller Open women's competition was played as a round robin, with top seed Hannah Sutherland-Smith finishing ahead of fellow Manawatu player Rebekah Leung-Wai.
Leung-Wai and Sutherland-Smith won the doubles together, ahead of another Manawatu team in Lyn Biel and Megan Small.
The Junior tournament concludes today with the Under 12 and Under 16 finals.