Whanganui free diver Tania Rounthwaite went through the gamut of emotions which goes with the gruelling sport which tests human limits while she competed at the Cressi Freediving Depth Nationals in Taupo last week.
The nationals were held from Thursday to Saturday and featured divers from France, the United States and China competing in Lake Taupo's Motutere Bay.
Divers enter in three disciplines - constant weight diving with fins, without fins, and free immersion - where they use a rope to propel themselves down.
The dives are strictly monitored and competitors must reach their depth and return to the surface on a single breath under their own power, and cannot lose full consciousness for even the briefest of moments.
Rounthwaite managed two new personal bests in Taupo - reaching 52m in the free immersion and 55m in the constant weight dive with a monofin.
However, her attempt at a 40m no fins dive on Saturday was not completed as she blacked out 10-12m from the surface and had to be rescued by two safety divers.
Rounthwaite was treated by a medic and suffered no lingering effects.
She said the incident has not put her off the sport and she was already looking forward to competing next year.
"As with any sport there is a degree of risk involved in freediving, however we have very stringent safety protocols in place at our competitions.
"The safety team executed a perfect rescue and followed up by the competition medic."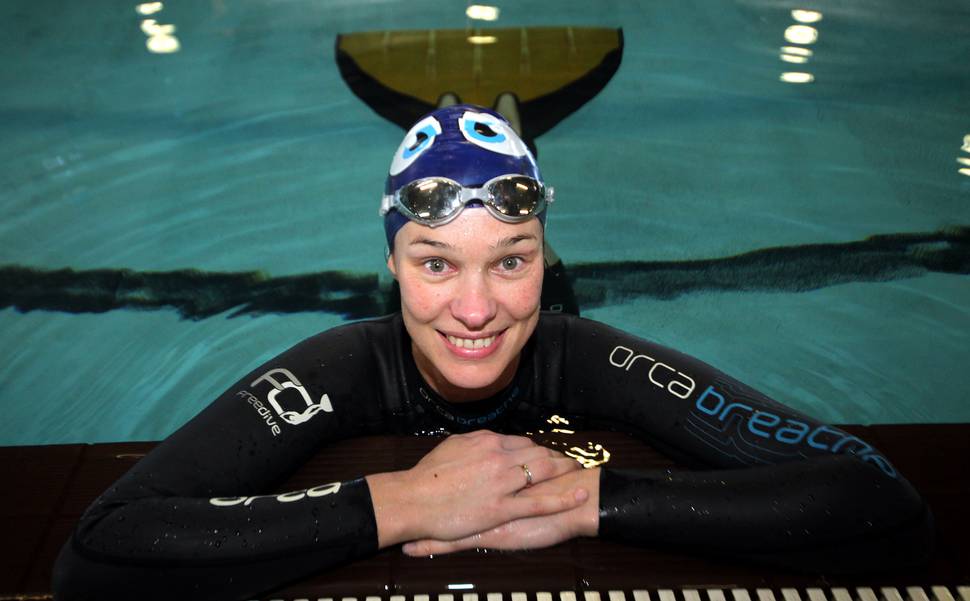 Freedivers nominate how deep the 'base plate' at the end of a weighted rope will be, and they must reach the plate and pull out a white tag for making their return trip to the surface.
To win the overall men's or women's national title, a diver needed to accumulate the most points across all three events.
Wellington's Dave Mullins reached an extraordinary 105m for the deepest dive ever recorded in New Zealand.
Freediving NZ brought in a special 120m rope for Mullins' attempt as most divers at the event were reaching the 40-56m distance.
Mullins, 37, had to hold his breath for three minutes to complete the dive, smashing the old record of 93m set by Austria's Herbert Nitsch.
Auckland's Gemma Cookson won the overall women's competition, while fellow Aucklander Wayne Tu claimed the men's title.