When duathlon officials are hollering at you to veer straight and head across the finish line, it's usually because a competitor is fatigued and losing their way.
However, Palmerston North policeman AJ Cornwell waved the yells off with a "yeah, yeah," as he arrived back at the Whanganui Multisport Clubrooms on Anzac Parade.
Because after blitzing the field for line honours in the Masters Games race, he had another destination in mind before winning the event, cruising over to the grass verge to give his partner a quick kiss before completing the 5km run, 20km bike and 2.5km run in 1hr 4m 6s.
Getting a congratulatory peck on the lips for a race winner by their loved ones is not uncommon at Whanganui multisport events, but seeking it out before the finish was a first.
Early, in breezy cool conditions, 19 individual women and 15 individual men's competitors, along with the first runner of three teams, lined up at the start for the two laps from the club rooms down towards Dublin St bridge and back.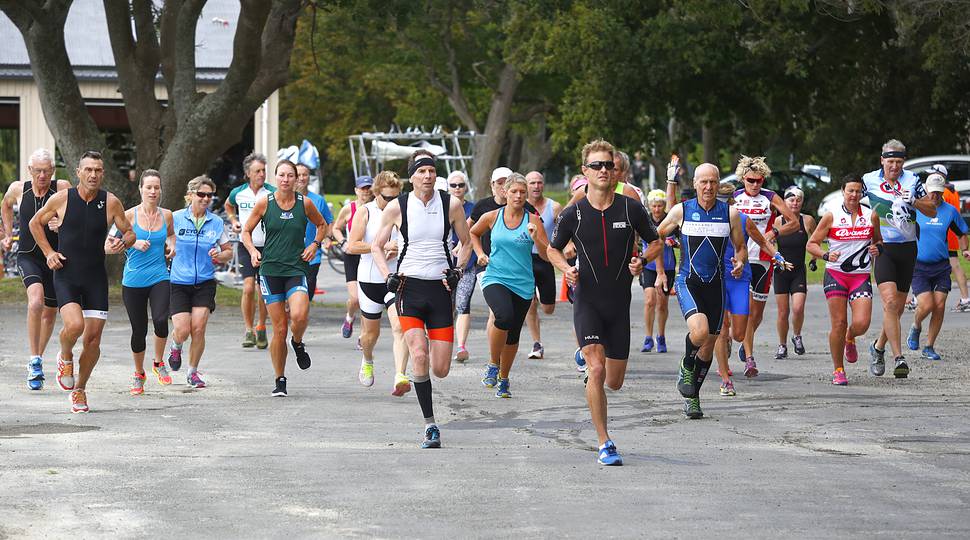 Completing his first jog around the large tree at the clubrooms in 8m 33s, Cornwell already had a substantial break on the chasing pack, and after doing the second lap in a little over 11 minutes, it was clear his biggest challenge at that point would be breaking the one hour mark.
Keeping over a two minute lead for most of the race, Cornwell completed his first 10km lap on the bike ride out towards Upokongaro and back by the 37 minute mark, with a big smile on his face.
Coming back to the clubrooms, it was a quick foot dash back down Anzac Parade, before stopping for his kiss and then cruising across the line, after the pre-victory kiss, with over half the field still coming back to the final transition from bike to foot.
Cornwell joked that he had come here to compete against fellow police officer and Multisport Club president Jason Page, given they are both in the 40+ age category for competition, yet Page had to sit this one out as organiser on the day.
A member of the Palmerston North club, Cornwell said he had been too concerned with trying to break the hour mark.
"Just to come here and have a bit of fun, first time I've done it.
"This year I just thought I'd give things a challenge."
He had competed in the Tauranga half ironman the previous weekend and has lined up the upcoming triathlon events in Lower Hutt, Wellington and Rotorua in coming months.
This will include his two daughters.
"I try to do events we can do with the whole family."
A few of the duathletes will also enter this coming Saturday's Masters Games triathlon, which uses the same course but includes a 750m swim down river, starting at 1pm.