Waverley Harvesting Border got out of jail as a 80th minute converted try from winger Tom Symes snatched a 10-9 victory from a gutted Byfords Readimix Taihape in the opening game of Tasman Tanning Premier today.
Rugby is still officially a winter sport and Dallison Park turned on a cold and wet afternoon that seemed more like June than early April.
Taihape, trying to snap an eight match losing streak in Waverley, while also hanging onto the Grand Hotel Challenge Shield, seemed to have done enough approaching fulltime as Border had only added a second half penalty with the wind through fullback Nick Harding.
The visiting fullback Te Rangitapu McLeod had slotted three penalties from four attempts in the first half, as Taihape dominated territory with the wind and pressured a makeshift Border lineout, having to use career loose forward Kieran Hussey at hooker.
Adding to Border's concerns was halfback and skipper Lindsay Horrocks being helped off early after a heavy head knock, while returning lock Jon Symth picked up two yellow cards for dangerous tackles around the neck area, one in each half, with his second yellow being an automatic red with 13 minutes remaining.
Taihape had lacked the punch to capitalise on a couple of golden chances to score, with Border's defence inside their 22m being resolute, but the home side struggled for fluidity with ball in hand and would give possession straight back to the visitors.
Taihape seemed like they would keep the ball just inside Border's half to run out the clock, but they lost skipper Tremaine Gilbert to the sinbin after an altercation at the ruck with three minutes left.
Harding threatened to break through until Taihape winger Luke Whale cut down his supporting winger Neihana Pomana for another lost pass, with the visitors getting a penalty to clear.
Ultimately, there were two key players who saved the home team's bacon.
Flanker Angus Middleton took over the captaincy for Horrocks and although he was lucky not to join Smyth in the bin for one tackle that crept up high, the Steelform Wanganui incumbent kept his team in the game as a half dozen times he got either the turnover, or forced Taihape into holding penalties, while at the breakdown.
The other unlikely hero was nuggety reserve halfback Josh Lennox.
Having only just come off a plane and played the full curtain raiser game before he replaced Horrocks, Lennox nearly had a disaster late in the second half when his scrum pass missed Pomana and Taihape's new recruit Tyler Rogers-Holden pounced to dash right to the tryline.
A brilliant tackle from new Border first-five Craig Clare saved the try, but when Taihape got the penalty and chose a 5m scrum, it was Lennox who redeemed by cutting down flanker Matt Brown off the back of the scrum and getting his side the penalty.
Then, with time nearly up, it was Lennox sneaking through the Taihape lineout to snatch the batted-down ball and forcing his way back towards his forwards, despite all kinds of attention from defenders, which gave Border one last chance.
Second-five Te Kepa Grindlay fired an excellent cut out pass to hit Symes on the 22m, in space for the first time all match, and the speedy winger crashed over out wide in the covering tackle.
Harding then coolly added the pressure conversion and there was only enough time left for Taihape to kick the ball off, which didn't clear 10m as the wind had picked up.
Border coach Ross Williams was frank in his assessment.
"The better team lost.
"We went through a lot of adversity though, lost our No9 and captain ten minutes in.
"Lots of injuries to sort out with our small squad.
"We'll get better, but for large periods today Taihape set the benchmark."
Williams had to praise Middleton, who had given away a couple of penalties as he got under Taihape's skin, but Border would have been lost without him spoiling play and breaking the visitor's momentum.
"He's your stereo-typical No7 – just niggly."
Although, by design, Taihape had taken a causal approach to their first game of the season, new coach Tom Wells was stung to have a precious victory in Waverley snatched away.
"That's a tough loss but you don't get easy wins here. The boys will be gutted by that.
"It's just playing smarter into the wind. We were dominant up front, but just went away from it."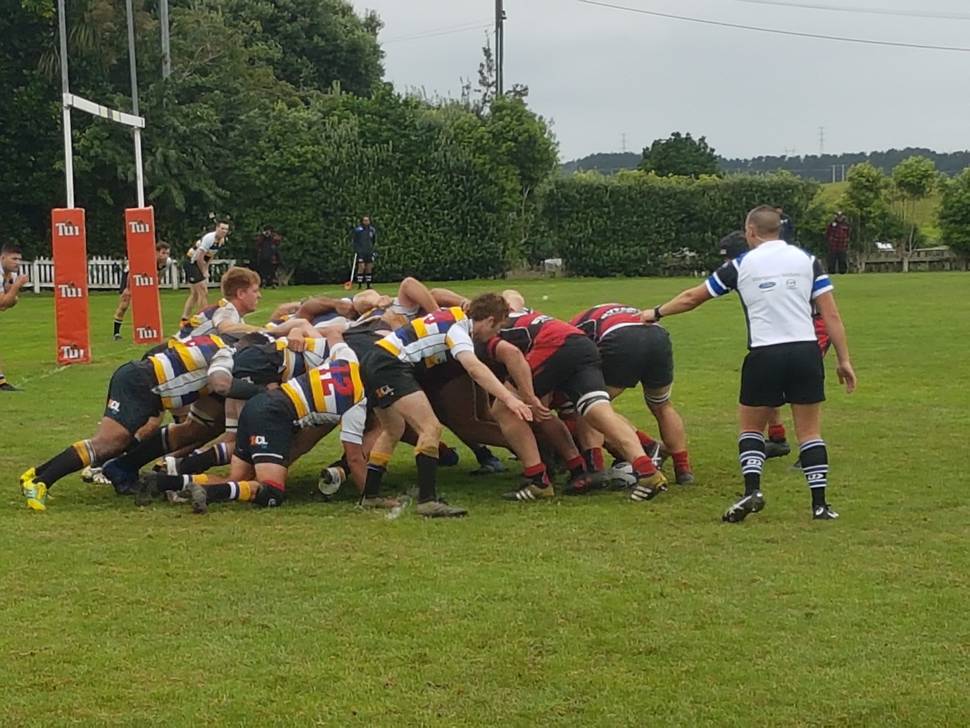 The Taihape front row of the returning Hadlee Hay-Horton and Wanganui squad members Dylan Gallien and Wiremu Cottrell had it over their fellow reps Kamipeli Latu and Hamish Mellow.
Rogers-Holden kept busy and made a key tackle early in the second half to snuff out a threatening break by Clare, while lock Hoani Woodhead had a strong match with some good carries.
But in a scrappy game all around, Taihape had just lacked for one good knockout blow.
Border's scrum just managed to hold on at their own tryline late in the first half, while before that a good backline spread set up by second-five Jaye Flaws, following a kick charge down, saw winger Adam Eremiha spill the final pass with the tryline open.
With a high penalty count, opposing Wanganui first-five's Clare and Dane Whale had a lot of opportunities to calve off big metres on their free kicks when they each had the wind behind them.
Border 10 (T Symes try; N Harding pen, con) bt Taihape 9 (T Rangitapu-McLeod 3 pen). HT: 9-0 Taihape.