An intense trans-Tasman equestrian rivalry has sprung up with a Marton school taking the reins, writes Jesse King.
A muddied pair of gumboots stand firm in the soggy soil inside Nga Tawa Diocesan School's stables.
They're worn by a student and you can hear a whoosh of water escaping the nozzle of the hose that she is holding.
The spray of water is aimed at her grateful horse, which is long and brown and calm.
There are many more horses in the background, tethered to the wooden rails that make up the 80 stable spaces at the school on Calico Line.
They are whinnying, they are heads-down, feeding and some are having gear applied - saddles, horseshoes and such.
Around the corner, Sydney-born Katie Hancock watches as four fellow New England Girls School (NEGS) students practise inside the show-jumping arena.
NEGS is in Armidale, a rural city of about 30,000 people in New South Wales.
"I really like the surface here, obviously it's much greener than Australia because we're in a drought right now," Katie says.
"The surface in your arenas is not too bouncy, but it's bouncy enough and it's really smooth and nice riding. The horses aren't tripping at all."
NEGS are visiting to take part in the first ever international event hosted by Nga Tawa and the first of its kind in Marton.
The partnership began in early August when NEGS hosted Nga Tawa, beating them in competition to spark the transtasman rivalry.
"It was really fun hosting Nga Tawa, it was great to see their reactions to Australia and how they took their knowledge from here and applied to our horses at home," Katie says.
"This partnership helps with building connections. If we make them now, then when we're older, we can try to come and do some work over here."
The interschool equestrian event is unique in that every competitor will be riding a horse drawn at random in the spirit of fairness.
To transport just one horse across the Tasman and back again costs $12,000, making the total cost unfeasible for both schools.
"The experience I had today was great on my little pony, it's different, you have to leave behind all the stuff you know about from riding your own horses," Katie says.
"You have to think with a fresh perspective and just see what the horse likes, what it doesn't like and think about how you can get it to perform at its best."
Katie, 16, was brought up riding horses by her Mum, who used to ride them on the farm.
She joined a local pony club, but that started to get a bit boring for the enthusiastic youngster and she decided to have a go at eventing.
"I love the connection you build with the horse. With a lot of sports it's either a team or an individual, but with this you have to train yourself and the horse to be in a bond.
"I love being able to compete and I strive for a personal best every time."
Katie's favourite event is dressage, which she describes as being the foundation of eventers and something she puts a lot of effort into.
And it shows.
On Saturday, September 1, Hancock finishes first in both the dressage test 2A and dressage test 2C, giving NEGS an overall 402 points to 394 victory.
Katie's inspiration and head of equestrian at NEGS, Imtiaz Anees is proud.
The name will be recognisable to equestrian enthusiasts because Anees competed in the Sydney Olympic Games in 2000 and the World Equestrian Games in 2002.
Anees, 47, was born in India where he grew up riding with his parents.
He has been in his role at NEGS for the past three years, having spent 20 years prior training, competing and commentating in the United States.
"NEGS has had horses since the beginning, for 45 years equestrian has been a part of the school," he says.
"We have the largest equestrian school in Australia, we have about 125 girls that ride and we do a lot of disciplines at a high performance level."
The students take their own horses to school and compete in eventing, show jumping, dressage, show hunter, campdrafting and polocrosse.
Anees has transformed their riding school into a training centre with ice machines, massage therapists, acupuncturists, saddle fitters and nutritionists on board.
He says that having their own horses and competing gives his students discipline and responsibility.
"These girls wake up in the morning, feed their horses and clean up after them. They're passionate about it, they're competitive, but they've got to put the work in.
"Whether it's a good day or a bad day, they still have to blanket the horses, rug the horses and look after them when they're sick."
Anees says that as the riders get older and more experienced, they will find it much easier to ride unfamiliar horses.
"In this short time, we're not here to change the horse," he says.
"My job as a coach is to look at what we have and see who will be the best rider for that horse, rather than just put the best rider with the best horse.
"You don't get results that way."
Anees admits he is a competitor by nature.
"I push them more than anybody else and we always have a joke that 'there's no place for second place', but that's a fun thing.
"The main thing is to build this relationship up between these schools because this is where the future is and I love the fact that Nga Tawa took this on."
So, how did the relationship come to be?
It all started when head of equestrian at Nga Tawa School Libby Rayner met Anees at Equitana in Auckland in November last year.
"Equitana is like a massive equestrian travelling roadshow, we had a trade stand there and I noticed these girls in the red hats," Rayner says.
"I called one over, she said she would bring her coach around, so I met Imtiaz and off the cuff he said 'our schools should do something together'."
Anees followed up with a phone call in February and the partnership was born.
"I wanted to give our girls the opportunity to become involved in something outside of Marton, an equestrian opportunity outside of this country is really exciting," Rayner says.
"And this is just the start, we're breaking ground."
Nga Tawa School was started near Shannon in 1891, it moved to Crofton Rd in Marton in 1906 before settling in its current location on Calico Line.
Students used to ride their horses to school or were transported there by horse and carriage, until they built their own stables that house more than 90 horses today.
Rayner says the bond between horse and student is amazing.
"A lot of girls are just drawn to ponies for whatever reason when they're kids and we give them the opportunity to really get involved with them.
"They develop exceptionally strong bonds with their horses, the animal trusts them implicitly and therefore the girls have to trust the horse with their life, ultimately."
For Rayner, setting foot inside New England Girls School was like "walking into our own backyard".
"They're both brick buildings, both with a rich history over 100 years old, Anglican girls attending and boarding schools with on-site equestrian academies," she says.
"Going on trips like that really helps our girls develop, it gives them global awareness, respect for other cultures and countries."
Emma Gibb, 16, missed out on the experience because she missed the cut during the trial process.
"It definitely made me think about what I could have done better in the trials so that I can hopefully get to go next year," Emma says.
"But I'm excited about NEGS being here, I thought it was the coolest thing ever when I first heard about it and I like that we're on unknown horses as well."
Emma got her first pony at age 10. She would often think about how much fun riding looked and comment about cool looking horses when travelling with her parents.
Then along came Bobby.
"He wasn't really much of a pony, he was more like a psycho thoroughbred that we got given for free," Emma says.
"Because Mum and Dad didn't know anything about horses they were like 'cool, a free horse, that will do the trick'.
"I learned how to stay on pretty good, because it would just take off across the farm and I'd sit there thinking 'whoa, we're going fast'."
Emma was born in Scotland, but moved to Gladstone near Masterton when she was 3.
Bobby lasted about two years with Emma before moving on to give another kid a crash course in how to ride a horse.
"Having Bobby was really good because it taught me not to be scared of horses. If I'd had a perfect pony, I couldn't ride half of the horses that I ride now," Emma says.
"I had a couple of other random horses after that, a couple more ended up having issues with lameness, but eventually I decided that I wanted to get serious."
And serious she became.
Last year Emma competed in the NZ Pony Club Eventing Champs in Whangarei in unbelievable circumstances.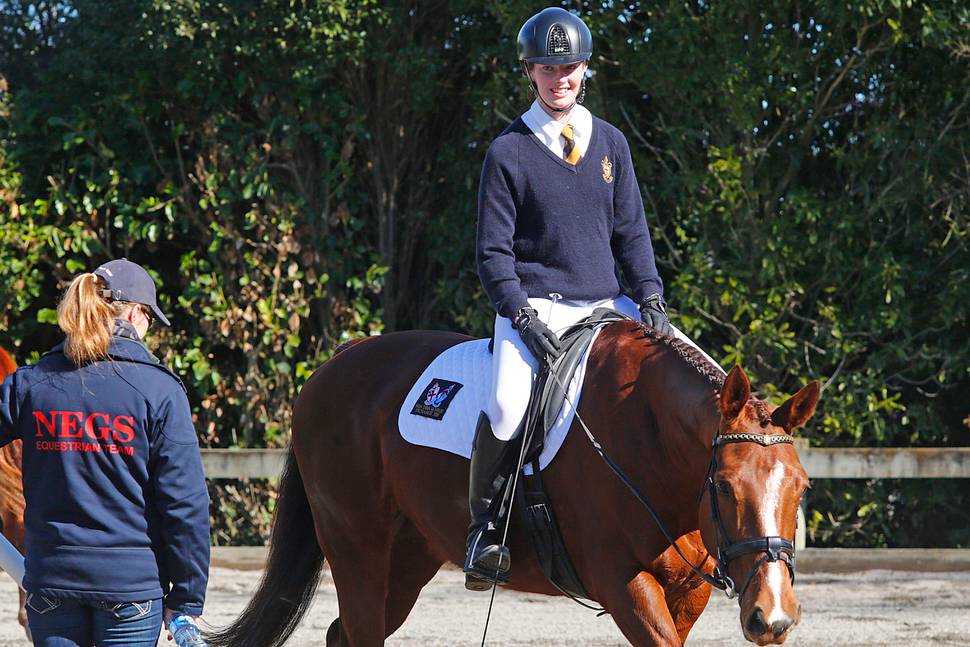 "I worked so hard to get there, there's a whole trial criteria and before the last trial, I fell off a friend's horse and dislocated my elbow," Emma says.
"It was a whole big drama and they ended up making me ride my dressage with my arm strapped up, that was the only way I could do it.
"The fact that I did that and still managed to do really well was so cool for me."
Having missed the opportunity to travel with her friends to Australia earlier, Emma was keen to show off her horsemanship on her home turf.
She gave herself every chance of participating in the next trip by finishing second behind Katie in dressage test 2A last Saturday.
It meant another overall loss for Nga Tawa, as they were dominated in the show jumping, but Emma said there was a feeling of achievement for anyone that completed the course.
"You walk a cross country course and think 'holy hell, these are massive jumps', then you do it and think 'oh my God, I did it'.
"Full credit to Mrs Rayner for organising this. She has so much on her plate, but she still manages to pull all of this together for us."